Why Cops Crashed Party.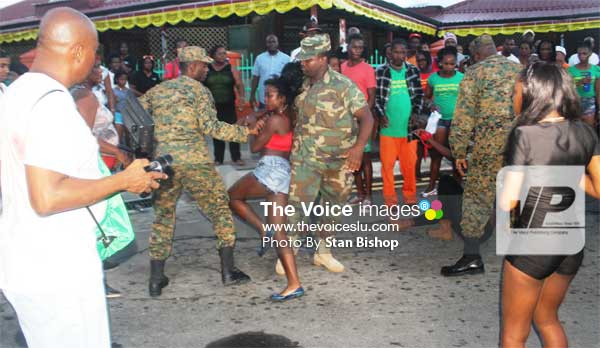 THE seven j'ouvert bands that were forced, Monday morning, to end their jump up session prematurely because of a decision taken by police are still seething in anger.
Now the police have broken their silence on the matter saying that the course of action they took was as a result of information reaching them at the time.
They also claimed that it was never their intention to stop Saint Lucians and visitors from enjoying themselves.
Police Press Officer, Zachary Hippolyte said: "Remember police officers have families who too were in a j'ouvert band. So it never was the intention of the police to end j'ouvert proceedings. On that morning there were sporadic incidents of fighting and one or two incidents of stabbing.
"Now I know people are asking why didn't the police handle those guys (trouble makers). The thing is, and I cannot divulge the information in its entirety, but a decision was taken by an officer in charge of the event. Upon receiving certain information the officer passed on that information to the Commissioner of Police and through their deliberations on the information received the Commissioner of Police gave the order that j'ouvert should be stopped"
"It is not about the fighting. What people need to understand is that after the fighting things could happen," Hippolyte added.
Eye witnesses recorded incidents of fighting in at least one j'ouvert band and the stabbing of a woman near government buildings on the waterfront. That woman collapsed minutes later on Jeremie Street next to the government printery.
Most of the bands however did not register incidents of fighting or other violent acts and were furious that their jump session through the streets of Castries Monday morning was cut short.
Law abiding Saint Lucians who came out to unwind and have a good time in a J'ouvert band were furious at the premature end of the event.
Foreigners who came to Saint Lucia just for the carnival and were members of some of the bands were also angry that their time on the road was cut short before some of them even broke a sweat.
One band, Mudsters, said that 60 percent of its revellers were foreigners.
In fact it has been said that this year saw the biggest influx of foreigners in carnival. Band leaders are saying that the police were unprepared for the skirmishes that took place at J'ouvert and could have dealt with the matter in ways other than shutting the event down.
"Everybody got short-changed," a band leader said.
Reports are that the early closure of the event resulted in some bands not being judged.