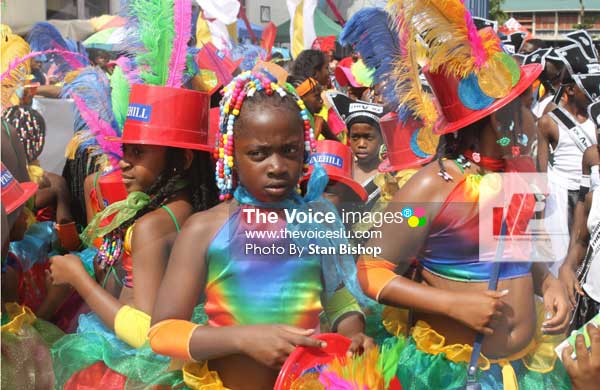 NINE bands will participate in tomorrow's Junior Carnival giving St Lucians their first vreal taste of mas' for this season. They are Just Us Kids, Royalty Kids, Just4Fun, Delights, Storm, Motion Studios, Insommiel, Gros Islet and Vieux Fort.
The event will begin around 11:00 a.m. near the Central Library where the King and Queen of the Bands costumes will be judged.
The Parade of the Bands will commence around 1:00 p.m. with the bands making their way around the city centre before assembling in William Peter Boulevard to be judged.
Today, though, the young revellers will participate in the traditional Kiddies' Line Jam that will begin at 1:00 p.m. near the Castries Town Hall, making the rounds in the city centre.
President of the St. Lucia Carnival Bands Association (SLCBA), Sonia Sifflet, said the event serves as an incubator for Carnival by building capacity to ensure that the annual event remains sustainable.
Sifflet said that three community kiddies' bands are excited to participate in the event and organizers are making a concerted effort to ensure that the standard of the bands improve.
"We're hoping that by next year things would be even better because we plan to have workshops for the community bands within their own communities by teaching them costume designing and building," Sifflet said.
She appealed to the public to come out and support the youngsters as they take a much-deserved break from school. Some of the junior calypsonians from the season will be showcased at the event, she said.
Sifflet said that while registration numbers have been encouraging thus far, the numbers are expected to increase with parents making last-minute preparations to register their children.
Just Us Kids has won six "Band of the Year" titles in its twelve years of competition, winning its first in 2008 and five consecutive titles between 2011 and 2015.
Last year, the band portrayed the theme, "Commercial Break: Tribute to our Sponsors", and is portraying the theme, "Fancy Sailor – Catch of the Day", this year.
This year's carnival fever will continue its rise over the next few days. Apart from tomorrow's Junior Carnival, Vieux Fort also move into full carnival mode this weekend with a dance this evening at the Phoenix Entertainment Centre followed by Jour Ouvert tomorrow morning. Costumed bands will parade around the town both tomorrow and Monday.