Former Man U Star An Ambassador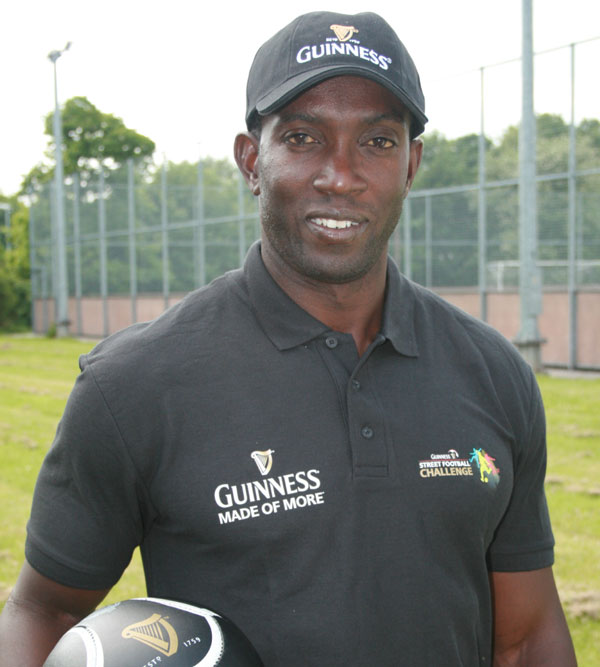 THE 2016 Guinness Street Football Challenge (GSFC) Grand Caribbean Finals will be brimming with star power, as international football legend, Dwight Yorke, presides as the GSFC Ambassador, and Freestyler Ambassador, Phillip Warren Gertsson, gears up to awe the crowd with his skills.
After a series of electrifying matches across the region, St. Lucia will be the venue for the GSFC Grand Caribbean Finals on July 2 and 3. Ten country teams will now face off to claim the grand prize of a trip to Brazil.
Lauded former international football player and Manchester United legend Yorke has embraced the role of Ambassador for the 2016 Challenge. Yorke follows an impressive line of GSFC Ambassadors, including Ruud Gullit and Kenwyne Jones.
As an ardent supporter of youth development through sport, Yorke was enthusiastic about the event's capacity to foster young talent. "It's exciting to be part of this event. The latent talent of our young people in the Caribbean is immense, and forums which encourage their development are invaluable," said Yorke. "The Guinness Street Football Challenge gives these young men a great opportunity to come together and build bonds of camaraderie while honing their skills in a dynamic way. I'm looking forward to seeing a quality showing in the Grand Caribbean Finals."
The competition on the field will be fierce, and during intermission the crowd will experience a lighter side of the game when Freestlyer Ambassador Phillip Warren Gertsson of Sweden puts on a display of his world renowned footballing dexterity. Having performed and competed at some of the biggest sports entertainment stages in the world, Gertsson is primed to deliver an enthralling performance.
"My passion for football has taken me all over the globe, from London to Tokyo, Egypt to Vietnam, and more," he remarked. "It is a great privilege to now revel in the beauty of the sport in front of an audience in the Caribbean, a region which is so vibrant and has produced many sportsmen whom I respect and admire."
Melicia Wilson-Aquing, GSFC Project Manager for Guinness Trinidad and Tobago, commented on the calibre of personalities associated with this year's Challenge. "The presence of these world-class Ambassadors illustrates the tremendous quality of the Guinness Street Football Challenge," she stated. "For many people in the Caribbean, this event has come to represent a singular opportunity to showcase raw skill and talent, and Guinness is committed to rewarding our participants by advancing the standards of the Challenge with each consecutive year."