11 Countries Bid For Trip To Brazil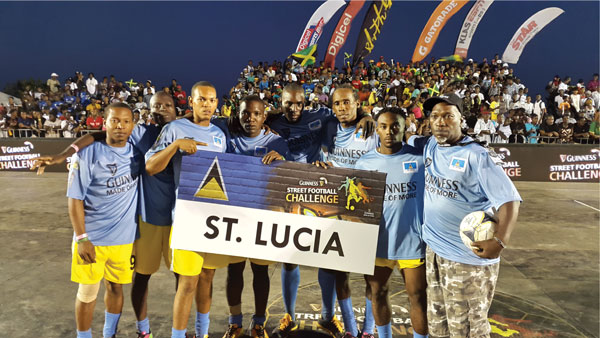 THE Grand Caribbean Finals of the 2016 Guinness Street Football Challenge (GSFC) will kick off in fine style in St. Lucia from July 2 – 3, with eleven country teams vying for the chance to win an all expenses paid trip to Brazil, the mecca of football, with tickets to a major game in Rio de Janeiro.
With this exciting grand prize to Brazil, Guinness has heightened the competitive stakes, setting the stage for a series of thrilling showdowns.
Now in its sixth consecutive year, the Guinness Street Football Challenge has flourished into a highly anticipated fixture on sports calendars.
In 2015, community football teams representing the various Caribbean islands delivered exhilarating performances as they competed for thousands of dollars in cash prizes and the opportunity to be crowned champions.
At last year's Caribbean Finals in Kingston, Jamaica, the St. Lucia Veterans dethroned former champions Trinidad and Tobago when they emerged victorious against the Barbados Arm Units with a commanding 4-1 victory.
As the reigning Guinness Street Football Challenge champion island, this year St. Lucia will be the grounds for the event that will decide which island can boast of being the finest street football team in the region.
Competitors will be hosted at the upscale St. Lucian by Rex Resorts, one of the most prominent all-inclusive destinations on the island. In addition to St. Lucia, participating country teams include Antigua, Aruba, Barbados, Dominica, Guyana, Jamaica, St. Kitts and Nevis, St. Vincent, Trinidad and Tobago, and the newest country to join the line-up, Curaçao.
Melicia Wilson-Aquing, GSFC Project Manager for Guinness, highlighted the unifying element of the Grand Caribbean Finals. "With the Challenge, Guinness is continuing to build a platform which not only showcases our regional talent, but brings us all together," she remarked. "As we continue to encourage our young people to demonstrate the greatness they are capable of, we hope to instil a message that we are all members of a region filled with great passion and potential."