Eyes Now Set on Nationals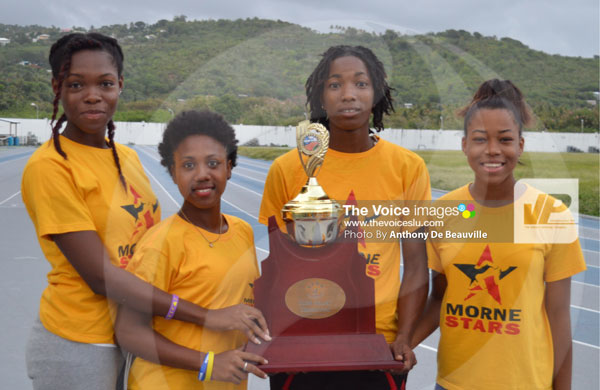 THE Morne Stars Athletics Clubs still celebrating their victory following last weekend's St. Lucia Athletic Association National Club Relay Championship held at the George Odlum Stadium in Vieux Fort.
The club topped the points table with 1175 points, 35 points clear of second place finisher Rockets on 1140 and Survivors third on 735.
President and coach of the club Terry Finisterre said: "This is our fourth title overall; a number of athletes came out and performed their best, it was a hard fought victory. I was particularly impressed with the 14 and under girls 400×100 team. They were forced into running unfamiliar races. The likes of Anthony Klein and Kimani Alexander – all did very well.
"Great show of perseverance from some of the athletes, the girls in particular and women all did a fantastic job of things; they won by over 200 odd points.
He said, the meet was delayed, having originally been scheduled for May but he was thankful that it finally went off. Several overseas athletes came back to compete and it was good to see all these athletes coming back to put on a good show, Finisterre said.
With less than two weeks to go before the staging of the National Individual Track and Field Championships in Vieux Fort, Finisterre is expecting a great level of competition over the two days. In terms of Morne Stars he doesn't think the club is under any pressure per se, but will be coming all out to give a good performance.