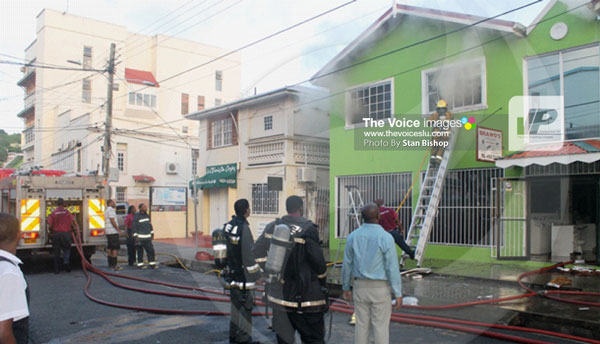 THE Saint Lucia Fire Service (SLFS) renewed its call this week for businesses and households to take fire prevention measures seriously.
The department's call came Thursday, one day after a fire at the Brawo store on High Street, Castries resulted in losses and damages.
The fire started sometime after 4:00 p.m. on Wednesday and firefighters responded to a call that came in around 4:40 p.m.
A statement from the SLFS noted that upon arrival, fire officials noticed smoke emanating from the first floor of the two-storeyed commercial building which houses and trades in household appliances.
Fire officials discovered that the fire was confined to the roof of the building and after some initial difficulty, the fire was brought under control, with seemingly no damage caused to La Clinic Du Corps and Dr. Freezer's restaurant between which the green building still stands.
Scores of people stood outside the cordoned area to catch a glimpse of the burning building from which white then black smoke billowed. Brawo employees were seen sitting on the sidewalk opposite the store while firefighters went about their duty.
One firefighter was seen using a ladder to break the glass windows on the top floor of the building so as to spray water into the building.
The fire department said an exact cause of the fire has not yet been determined and no injuries were reported. However, investigations continue.
On Thursday and Friday, workmen were seen clearing out burnt items and sweeping out water from the store's ground floor.
Meanwhile, Fire Service spokesperson, Stacy Joseph, says citizens are not placing enough emphasis on fire prevention, probably through their lack of knowledge on fire prevention.
She told The VOICE that while most people are aware of the fire department's functions, such as ambulance responses and fire units responding to a fire, they are not aware that the department also covers fire prevention which is essential in maintaining safety in the country.
"We do lectures and conduct training for all groups of people, whether it is a local community group or business-places or schools making such requests," Joseph said. "We teach them about fire safety, generally, whereby we encourage them to instal safety devices, such as smoke detectors, in their homes and businesses."
Joseph said smoke detectors, fire extinguishers and a fire escape plan are indispensable, especially when a fire breaks out.
While fire prevention continues to be a daily pitch from the fire department, the department also observes Fire Prevention Week each October during which period it hosts various open day sessions with communities in the island's north and south.
Joseph noted that there are certain times of the year when more of one type of fire is prevalent. For example, whenever it's hot in the summer, many bush fires occur. In the rainy season, however, many house fires occur, often due to faulty electrical works.
She said the fire department is also in the process of developing a reliable data system that will comprise all the relevant information regarding the frequency of fires and their locations. By doing so, she said the department will be able to look at trends, such as what time of the day they get most calls about house fires or commercial fire calls and in what areas.
In recent months, hardly a week goes by without the fire department receiving a call about a fire somewhere on the island. Two of the most recent fires that resulted in major loss and damage occurred in Rodney Bay.
In January, an early morning fire razed several businesses, including Matthews Restaurant and Q Bar, near the Baywalk Shopping Mall. Last month, popular nightclub, Verve, met a similar fate. Unconfirmed reports point to arson being the cause in both cases.