Meet Tara Edward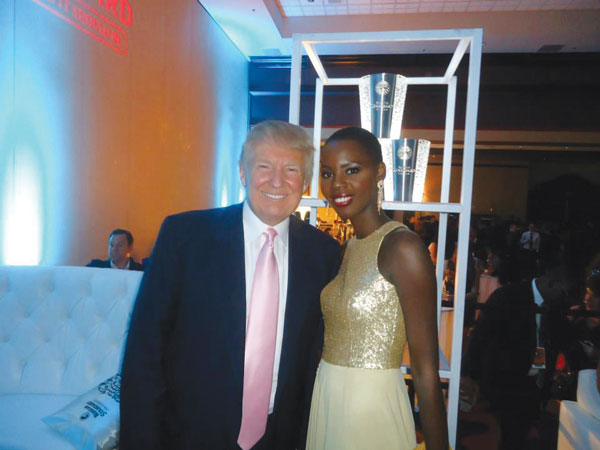 IMAGINE being fortunate enough to represent your country on a grand stage that is seen and loved by people from across the globe.
Now imagine coming back home on that high only to slip back into anonymity and you are once again just like everyone else.
One would think that following such prestige, doors of opportunity would fly open right? Well for others who have walked the same path as today's FITC, they might beg to differ.
My subject is 28 year old Tara Edward who represented St. Lucia in the Miss Universe Pageant Show as Miss St. Lucia Universe in 2012.
Edward stunned the world with her beauty and left Miss Universe officials feeling hopeful about her as they considered her look to be unique and one that they have never seen from St. Lucia in the years that the island has participated.
Unfortunately, like the other St. Lucian hopefuls in years past, this wasn't Edward's year but that did not stop her as she has since gone on to walk numerous runways and grace magazine covers as a model. She also holds the positions working along the Miss World and Miss Universe National Director as her assistant.
The professional model, who resides in Reduit, opens up to The VOICE about rising up in a world of beauty and fashion, despite being bullied for her looks as a youngster.
She also gives us a look into the world of pageantry and modelling, differentiating between the two worlds and what life is like after the big stage.
If you see Edward walking the streets, she looks like anyone else (just prettier), but after reading what this quiet, complex and reserved yet charismatic and fearless woman has to say, you will never see pageantry and the attitude towards it in St. Lucia the same again.
The VOICE: You are perhaps one of St. Lucia's best known contestants who represented us in the Miss Universe Pageant. Give me a roundup of what that experience was like?
Tara: Challenging. It gave me an opportunity to see myself in a setting out of my island life. It really made me discover how confident I am and I realised that the world is so full of opportunities. It was hard work and fun at the same times, kind of like working out…it hurts at first but you keep going and the results are always worth it.
The VOICE: You have now made a name for yourself in both modelling and pageantry. When did you get into the two industries and how?
Tara: With modelling, I have always wanted to do it! I started at 16 years old while at secondary school and just continued and grew. Pageantry was me challenging myself. I did my first pageant at 20 years old if I remember well. It was the Miss Earth St Lucia competition in which I placed 3rd. Then at 24, I randomly auditioned for Carnival queen.
I honestly didn't think I would get picked since I didn't prepare any talent and just made something up back stage (Laughs). I was the 2nd runner up and named crowd favourite. I then went on to Miss Universe. I will honestly admit that I sucked at public speaking but I have improved over time. I just wanted to prove myself especially after being bullied, I would say it was for me to show the bullies and just being onstage is something I loved!
The VOICE: You mentioned that you were bullied, tell me a little about that and what it did for you in the long run.
Tara: I was bullied from infant to primary school and somewhat in secondary school basically for being very slim and especially dark skinned. It did affect me academically, and instead of socializing with my peers I opted for staying in my section. I hardly made friends. The constant reminder that I was dark skinned meant I was ugly so no one was interested in playing with me. Even when I tried to be friends at some point, they were shady so I decided to just be by myself. I am more of an observer and I am good at reading people now. In the long run, I decided to be friends with people who appreciated me for me and I stopped trying to impress everyone. Seeing some models really gave me a boost like Alec Wek and Grace Jones…those dark chocolate sisters. I had to learn to accept myself the way I was made by God.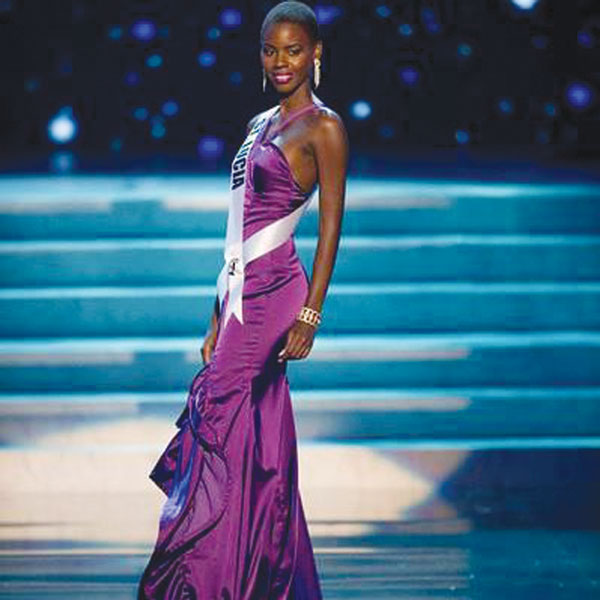 The VOICE: Funnily enough, with the same looks that you were bullied for, Judges from the Miss Universe Contest called your beauty stunning and unique and they said that you were the first model to represent St. Lucia in the contest with such an outstanding look. How did that make you feel?
Tara: Honestly I gave myself a tap on the shoulder and said good job. Did I expect to be that popular? Not one bit! For my looks to be celebrated in such a prestigious pageant I am still amazed and I have come to a point in my life where I am so comfortable with myself. So we may think we aren't pretty enough or whatever because other people choose to make you feel horrible but the fact is, they are the ones with issues not you. All you need is to love yourself, accept yourself, know your worth and negativity towards you will just go over your shoulder.
The VOICE: Many might not know this, but the road to the contest was not as smooth as it might have looked. Behind the scenes, what were some of the challenges that you faced whilst eyeing that crown?
Tara: Locally, I was happy for the challenge to compete with Oneka Mc Koy who has won many titles. It made me want to work even harder. She was definitely one of my sources of motivation. I also noticed more than before how calm I can remain in stressful situations! Internationally everything was just perfectly organised from very early morning to very late nights. However, I noticed how the Latin girls were treated so well by photographers especially. Also, the list of the potential top 16 was just laying around
I thought that was so irresponsible. I was also disappointed in some of the negativity that I got from my fellow St Lucians. I saw girls who came in so confident and as time went by their self esteem went down because of challenges that they faced with seeing what other girls wore etc. People not knowing where St Lucia is was something else that bothered me a little (Laughs).
The VOICE: I can imagine that many doors flew open for you following your appearance on the show. Tell me about life after Miss Universe?
Tara: I always believe you have to be in the correct place after Miss Universe. You need to have a plan. I did get opportunities in terms of judging a pageant in Los Angeles. I felt like I wanted to conquer the world but coming back home really burst my bubble because you just go back to your normal life. At Miss Universe, you spend more time at rehearsals than meeting people. You only mingle with people outside the pageant after the show is done and by then you are most likely preparing to go home. Coming back home, I don't think people understand the credibility of participating in Miss Universe, then again everything has some political aspect to it. I think more should be in store for the young lady who comes back home from participating in such a well known pageant
The VOICE: Seeing that you have lived through the experience and you know all the requirements, including those that we don't see or hear about, do you honestly think that St. Lucia has or will ever produce a contestant that will take home the crown when you look at the level of training here as opposed to over there?
Tara: I think anything is possible. In some cases, I say I don't think so if it is measured in terms of training. But in other cases I would think yes because I think some day when we least expect it, a girl from here can become victorious and I will be extremely happy and so ecstatic! At the end of the day, the reality of Miss Universe is that it's all about looks and you already know the European standard of beauty…oh and money too.
The VOICE: What more do you think should be done with our girls in all aspects to get them up to par with the regional and international contestants without selling themselves short?
Tara: Investing in them like the big countries invest in their girls…it's that simple! I think the government, together with the event's national director should work towards marketing young ladies whether it is involving them in programmes and initiatives that would take them places or even just giving the assurance that such representation was respected and appreciated
The VOICE: What advice would you give to the women vying to venture where you have been and even past contestants who felt like their career in modelling and pageantry was way too short, in order to have a real chance in this business?
Tara: You have to be passionate and disciplined. You have to do your research and look beyond St Lucia. Take care of your body and skin, practice using your features, be humble, invest in your material and yourself and finally, understand that not everyone is going to say yes to you but keep positive nonetheless.