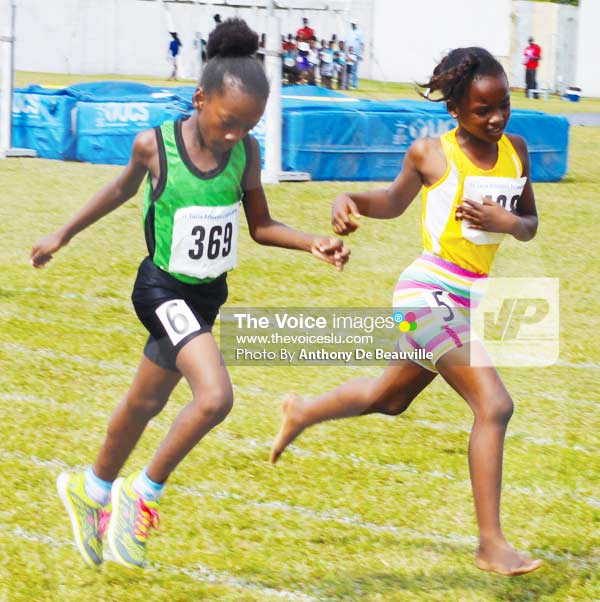 EXCITING, thrilling and epic were words used to describe the 23rd edition of the 14 and Under Track and Field Championships staged by the St.Lucia Athletics Association last Sunday in collaboration with 1st National.
For the many who turned out in their numbers one can safely say, this year's meet was among the top three since its inception in 1993 as local athletes and parents responded in their numbers to take in the action.
With a threat of rain just before the lunch time break, the conditions were conducive to some fine performances in the explosive events – 60m, 80m, 100m, 150m, 200m respectively, likewise the 1000m, 1200m, the cricket ball throw, high jump, long jump and the relay races.
President of the St. Lucia Athletics Association Wayne Burton in his address said, that for over two decades "we have witnessed the blossoming of this ever popular and important event on the athletics calendar. Likewise, we have witnessed with this blossom, the graduation of many of our athletes who were identified, nurtured, developed and participated in these games. So important is this event to our athletes and our organisation that the sponsors have seen it fitting to commit towards its support year after year. 1st National Bank, the St.Lucia Athletics Association owes you a great deal of gratitude for this continued commitment towards the lives of our athletes and the development of our nation's children and youth. We certainly could not have got this far without your dedicated support."
Burton told the athletes; "remember to have fun. Display what you and your coaches and teachers have practised over the years and months. Each of you are winners in your own right and you will feel even prouder if you adopt the mindset of reaching the top by striving.
Burton congratulated the participants for reaching this final and urged them to continue in this vein.