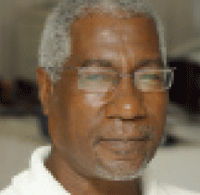 QUE SERA, Sarah? This question has been asked several times before – ten years ago, five years ago, one year ago — and now again…
Mrs Sarah Flood-Beaubrun is back in Central Castries, hoping to win a seat she gave up just over a decade ago. Remember? Back then, she was as much an enabler as she is now – then opening the way for an In dependent Richard Frederick to force himself on the UWP, now enabling current UWP Leader Allen Chastanet to prolong his reign on the party throne.
After the last change of government ended her stint as Deputy Ambassador to the UN, the former MP almost disappeared, only to reappear just ahead of the last UWP Convention.
Declaring herself a candidate for Leader of the UWP in a convention race all other challengers consciously chose to stay away from, she said — among other things — that the UWP had no chance of winning the next General Elections with Chastanet as Party Leader. Remember?
Sarah the returnee was loudly and publicly criticized by Castries South East MP Guy Joseph, who publicly scolded her for being too much in a hurry to become the UWP Leader. And he (also publicly) advised her to Take The Line. Remember?
During a UWP protest march last year from the Vigie Playing Field to the Boulevard — just ahead of the convention — news items that night featured the lady challenger being loudly harassed and attacked by supporters of Chastanet and Mr Joseph, all telling her (live on national TV) to Take The Line! Remember?
As expected, the ex-MP, the sole challenger, did not succeed in removing Mr Chastanet at the November 2015 convention. But immediately after her loss was confirmed, she pledged full support for the victor. The next day, the re-elected leader announced that Mrs Sarah Flood-Beaubrun will definitely be playing a role, for the UWP, in the next general elections.
I was not at all surprised by the announcement that the ex-MP would replace Peterson Francis as the new UWP candidate. Having provided the corralled UWP Leader with a much-needed convention fig leaf, I couldn't see her asking for anything less than a return to Castries Central. When my friend Peterson Francis said he jumped — but was not pushed — to make way for Sarah, I told inquiring minds that no matter how he described it, when it comes to running in the seat he was promised and announced as candidate for, he too had been asked to Take Another Line!
Interestingly, the reemergence of Flood-Beaubrun in Castries Central is also being watched closely by the big wig UWP insiders who don't want Chastanet. Also Waiting in Line, they too are banking on their leader not winning the Micoud South seat – which will change the price of cocoa, no matter what the election results.
The Sarah factor is also being seen by others in line as a possible effort to again position herself to become UWP Leader, should Chastanet fail to win in Micoud. There are even those who see it as a Chastanet plot to thwart any eventual King return to the throne.
All this is also happening against the background of a claim by the UWP Castries South East MP that there is a leadership rift in the ruling SLP. Joseph does not at all deny that rifts do exist at the top in the UWP. But he loudly and publicly claims there are many in the SLP leadership silently hoping that Dr Ernest Hilaire will lose against Senator Mary Isaac in Castries South. By his account, Mrs Isaac will win — not because he feels she is more popular, but because he suspects Labourites will not want to vote for Hilaire.
Josephs also claims that Prime Minister Dr Kenny D. Anthony has personally chosen Hilaire as his successor. But then all Saint Lucians know that Philip J. Pierre has been number two to Kenny Anthony at both party and state levels since 1996. Besides, immediately after the 2011 general election, the position of Deputy Prime Minister was created — and Mr Pierre has held it since then.
So how does Dr Anthony now decide to dump P.J. Pierre in favour of Hilaire, on the eve of the last general election before Pierre succeeds him? The SLPs internal party structure will not allow for that, as Political leaders first have to be nominated and elected at special party conferences for that purpose.
Anthony and Pierre have won every single convention election as a team from 1996 to present. Never has there been any doubt within the SLP as to who is well groomed to succeed Anthony whenever that time comes. So how does all that change on the eve of a crucial general election?
The immediate priority of Anthony right now is to convince Saint Lucians to keep the SLP in office for another term — and give him what he has already said will be his last five years to continue the job he started in 1997. His priority right now cannot be to choose who will succeed him as party leader.
That said, if all the above was true, then in both parties there will be those who strongly feel that newcomers with leadership ambitions simply have to understand that, democracy notwithstanding, they simply have to Take the Line!
Wow!