Launch On Monday.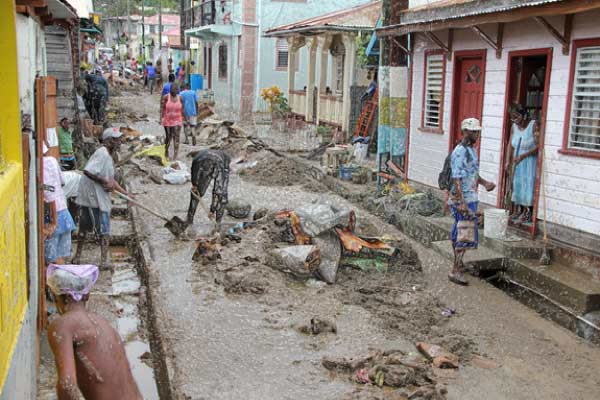 THE Government of Saint Lucia will officially launch a new EC$1.2 million project on resilience to climate change and natural disasters, together with the World Bank and European Union.
The 'Vision 2030' project aims to develop a long-term plan to reduce the losses caused by flooding, landslides, extreme winds, and other natural hazards.
"Rebuilding after events such as Hurricane Tomas has imposed a heavy economic cost in the past," says Permanent Secretary for Planning and National Development at the Ministry of Finance, Tracy Polius, "This project will help us pinpoint which public assets face highest risks from flood, hurricane or other hazards, in order to strategically and measurably reduce our vulnerability in the years ahead."
Saint Lucia has proven remarkably resilient, faced with extreme weather events such as Hurricane Tomas, which caused damage equivalent to 43 percent of Gross Domestic Product, GDP. However, the island remains among the most exposed countries in the world to natural hazards, with annual average losses of about US$ 40 million over the past 25 years.
"Saint Lucia has played a pioneering role in the Caribbean in the area of disaster risk reduction," said World Bank Country Operations Adviser Sabine Hader. "Developing a vision and action plan for greater resilience to natural disasters by 2030 will not only protect the most vulnerable citizens, but will also have positive impacts on the economy."
Amongst some of the key objectives, the project will build a computerized map of public assets starting with roads, bridges and drainage facilities, and identify priority actions and investments needed to reduce the country's overall risk by 2030.
"Many countries are introducing systematic approaches to maintenance of public infrastructure such as the transport system," says World Bank Senior Disaster Risk Management Specialist, Roland Bradshaw. "Building on Saint Lucia's impressive work on disaster risk reduction, this approach can also develop a model for other island nations that face rising threats from climate change."
On Monday Cabinet Secretary, Darrel Montrope, will officially launch the project on behalf of Prime Minister Kenny Anthony at the Bay Gardens Hotel, along with key representatives from relevant line ministries, utilities and professional associations.
The launch will be followed by a workshop on risk assessment, conducted by World Bank disaster management and infrastructure experts.
The three-year project will be implemented by the Ministry of Finance, Economic Affairs, Planning and Social Security, with the Ministry of Infrastructure, Ports Services and Transport as lead technical agency.
The initiative is funded by the European Union through the European Union-African Caribbean and Pacific (EU-ACP) Natural Disaster Risk Reduction Project, which is managed by the Global Facility for Disaster Reduction and Recovery.