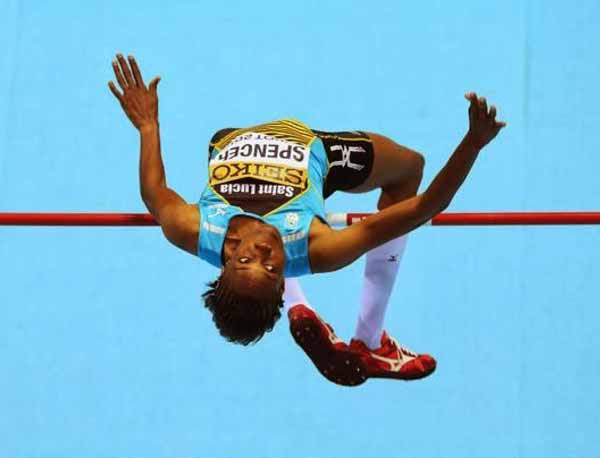 ST. LUCIA'S world class star high jumper Levern Spencer continued to build on her good 2016 form with another gold medal winning performance.
Competing last Saturday at the Diamond League Meeting in Shanghai China, Spencer defeated a strong field of 8 other jumpers to win the gold medal, thereby creating history again by becoming the first St. Lucian to win a gold medal at the IAAF Diamond League event.
Commencing her challenge at 1.80m, Spencer went over on her first attempt and the result was the same when the bar was moved to 1.85 metres. After passing the next height of 1.88 metres, she then needed two tries to go over 1.90 metres and 1.92 metres when on both occasions she cleared on her second attempt. With the bar then raised to the eventual winning height of 1.94 metres, the premiere high jumper in the Caricom region went over on her very first attempt to seal the victory. Having confirmed the win, Spencer decided to discontinue her attempts at 1.96 metres which would have been a new world leading mark.
Placing 2nd behind the St. Lucian champion was former Asian champion Nadiya Dusanova of Uzbekhistan, with European bronze medalist Ana Simic of Croatia placing 3rd.
Meanwhile, the 13 times Sportswoman of the year prepares for one other competition in China, before heading back to her training base in the United States, where she will be continuing her preparation for the Rio, Olympics.