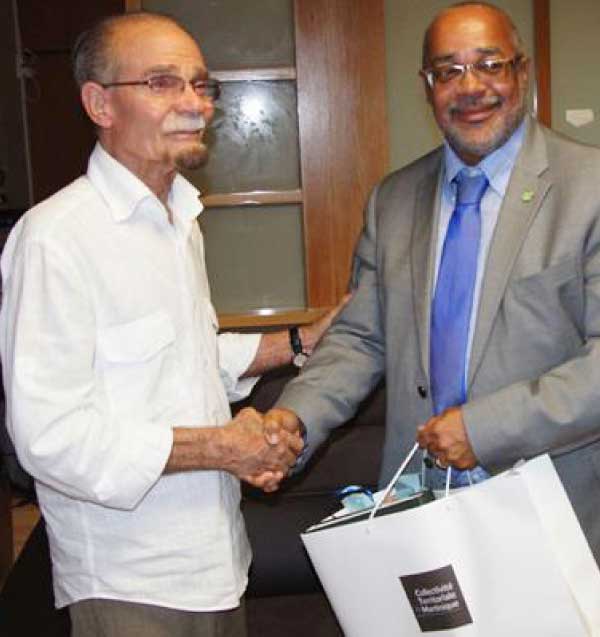 DIRECTOR General of the Organization of Eastern Caribbean States (OECS), Dr. Didacus Jules, recently met with the President of the Executive Council of Martinique, Alfred Marie-Jeanne at the offices of the Collectivité de Martinique in Fort-de-France.
The meeting was the first since the election of a new administration in Martinique following the French national elections last December, and follows the long-established practice of briefing engagements between the Director General and newly elected heads of political administrations of member states.
The meeting covered a wide range of issues including the nature and structure of the new governance arrangements in Martinique, as well as the inherent implications for a smooth transition between both administrations and systems; the priorities of the new administration both domestically and in respect of regional cooperation; the governance structure and arrangements of the OECS; and the modalities of participation by Martinique as a member of the OECS in the work of the organization.
The meeting also discussed the efforts of the OECS Commission to make the organization more relevant for its non-independent and associate membership, and received the assurance of the Director General that the OECS Commission existed to serve the member states of the organization.
Attention was also given to the necessity for continued active participation of Martinique in the organization, and for continuation of the active engagement between the administration and the OECS Commission. In this regard, the President confirmed the decision of his administration to maintain its resident representation at the OECS Commission via the physical presence of the Commissioner for Martinique, and agreed on the urgent necessity for the appointment of elected representatives and other officials to the various OECS organs and working groups.
The parties to the meeting considered it a tremendous success, and agreed on the need for continued engagement and action in the interest of achieving concrete results.