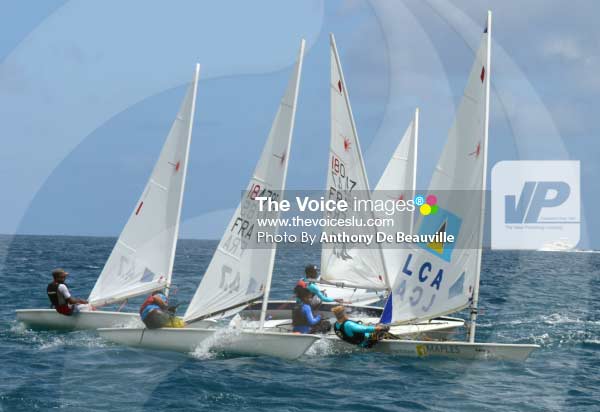 THE 2016 National Sailing Championships has been dubbed a "success" by the organizers with sailors from Martinique, Bequia and host St.Lucia battling it out against each other in a series of races in Rodney Bay.
The weekend weather conditions were ideal, with wind on Saturday blowing 13 – 17 knots and Sunday slightly lighter with wind conditions 14 knots dropping to 9 – 12knots by the last race of the day.
At the front of the radial fleet after 10 races (9 to count), overall Bruno Algae (Martinique) won with Stephanie Devaux-Lovell (St. Lucia) coming in 2nd place and MaloDesriviere in 3rd place overall.
Devaux – Lovell took home the title of National Champion over Luc Chevrier (4th place overall).
In the laser 4.7 class AdonaiModeste finished as the 1st St. Lucian sailor to take the national title.
The results of the two fleets – Beginners 1st ArianeFraites, 2nd Liam Riley and 3rd Felix Brosa.Intermediate – 1st Jake Johnson, 2nd Alejandro Vargas, 3rd Tino Nelson. The Overall Green Fleet top award went to Jake Johnson.
For both classes of boat (the optimist fleet and the laser fleet), 6 races were sailed on Saturday and 4 races on Sunday. The overall results allowed one discard and 9 races to count for the overall score.
The Optimist fleet saw 23 boats at the starting line; Benjamin fleet (age 11 and under) and the main fleet.
Racing in this fleet was dominated by local sailor Guillaume Chevrier. In his class he won 7 out of 10 races, came second in 2 and discarded an 11th. Chevrier was 1st overall, with Alexis Legay (Martinique) 2nd and Hugo Chave – (Martinique) 3rd.
In the Benjamin fleet (age 11 and under), Mateo Capasso put in a good performance to finish 3rd overall and national champion.
In the laser class, a total of 22 boats were at the starting line, 12 sailors were in the 4.7 rig (smaller sail) and 10 sailing the radial rig.
The "true grit" award for the whole event went to Tino Nelson (St. Lucia) in the Optimist fleet. He was racing in the Optimist Green fleet and also completed in every race on both days of the main event, certainly one to watch for the future.
According to the 2012 London Olympian Berth Lygoe, the Optimist Green Fleet sailors have just learnt to sail, and had a separate day to race on their own start line with a cross wind. For most of the 14 sailors, this was their first experience of racing since learning to sail in a programme organized by the St.Lucia Yacht Club.