NOT many people might be familiar with Saint Lucia's Youth Emergency Action Committee (YEAC). However, this dynamic youth organization that has community development and volunteerism at its heart is leaving quite a positive impression on the many individuals and organizations they serve.
Since its inception in 2011, YEAC (Saint Lucia), which has similar partner organizations in Jamaica, Grenada and the Dominican Republic, has been familiarizing its members with the skills necessary for responding to natural and man-made disasters, all in an effort to minimize injury and reduce loss of property.
Project activities include the formation and strengthening of YEACs in highly vulnerable communities, engaging youth as leaders in a process of community risk reduction, training community members in Disaster Preparedness, Mitigation, and Management (DPMM), developing community hazard risk reduction plans and selecting, planning, and implementing hazard risk mitigation activities.
Group members also take written and practical tests periodically to show how much they have learned and retained about the various aspects of training they are exposed to. They also get the opportunity to learn leadership skills.
The VOICE spoke to YEAC (Saint Lucia) Project Manager, Allister Phillip, recently following the group's big win at this year's National Youth Awards where they picked up the Award for Outstanding Religious Youth Group.
The VOICE: Why was the group formed?
Allister Phillip: "Basically, we're coming off of the experience of the St. Patrick's Rangers in Jamaica. The YEAC project was replicated in the other islands recognizing the need for manpower in the islands whenever there are emergencies. Since the youth make up a large population, then by empowering and training them, they can become the kind of response force needed for the betterment of these countries."
The VOICE: Does this have to do specifically with natural disasters?
AP: "Right now, we're involved in responding to natural and man-made disasters. We not only work with the Saint Lucia Fire Service and St. John Ambulance. We also work with the St. Lucia Red Cross and NEMO (National Emergency Management Office). This means that we have to make strategic partnerships with them and the other stakeholders in order for us to grow since we need the expertise of those organizations that are already versed in the training we need."
The VOICE: This means that the YEAC engages in simulation exercises, right?
AP: "That's correct. Either we have the facilitators come in to execute these activities or we go out with them. For example, we usually have the fire service personnel coming in to show the team and community members how to use fire extinguishers properly to put out fires."
The VOICE: So at the stage you're at now, are you capable of responding to a natural disaster or fire on your own or do you do so in tandem with your other established partners?
AP: "There is a protocol that we follow. So we would have to get the go-ahead from these partner agencies who would often call us whenever they need us. So we work along with them by assisting but never work on our own during such emergencies."
The VOICE: Have there ever been instances of mass emergencies when you were called upon to assist?
AP: "Actually, during the Christmas Eve trough in 2013, YEAC members went to NEMO where they volunteered for two months at the warehouse."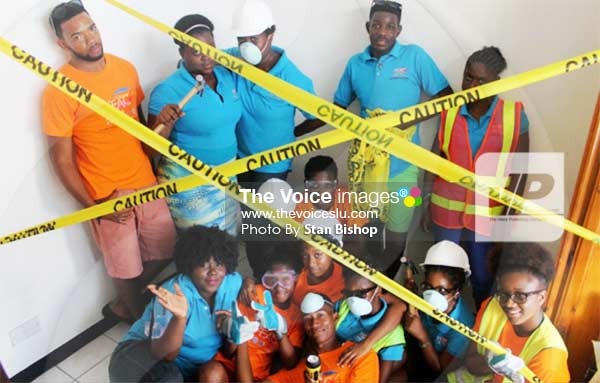 The VOICE: How many members are currently in the group and what is the age range?
AP: "We currently have 35 members and the age range we accept would be between 5 and 35 years old. However, current members are between ages 13 and 35. However, we also host activities where our members' siblings are invited so as to foster relationships with them. The aim is to attract them to the group so as to let them know that they, too, can play a role in the community's development."
The VOICE: Are they from specific communities?
AP: "Members are from three communities: Forestierre, Ti Rocher and Marchand."
The VOICE: What has it been like attracting new members?
AP: "What we've found is that not too many people want to be a YEAC member. However, one has to do it willingly and must have a passion for it. Our group is based on volunteerism, which means that members do not get paid for what they do. However, there are many incentives aside from developing emotionally, spiritually, physically and intellectually. We're basically a family. We encourage new membership; however, people who are not from the three communities mentioned earlier can volunteer to be in our activities. So in order for us to replicate, people need to come into the areas where we're already established and then be able to branch out to the communities where they reside."
The VOICE: What are some of the other training members are exposed to?
AP: "Members are exposed to life skills training and physical training. They also get training in ICT and team-building activities. It's important that they work hard and play hard. They also participate in Savings and Internal Lending Communities (SILC) which works like a bank with members can lend and borrow internally from a pool of resources, especially when they want to plan a fund-raiser or start a small business. Some members were also fortunate to go to the Dominican Republic to meet and share their experiences with other YEAC members there."
The VOICE: The team also assists at the St. Lucy's Home, right?
AP: "Yes. What we've done, really, is to branch out with respect to the services we provide to the community. So we visit the elderly to ensure that their homes are equipped with proper disaster plans. We also work with the Ti Rocher Day Care and the St. Lucy's Home in order to assess their vulnerabilities and provide equipment such as fire extinguishers and training in CPR and first aid. Through these exercises, we also get the opportunity to sharpen our skills."
The VOICE: What's the relationship like with YEAC members and the residents of St. Lucy's home?
AP: "We usually give the YEAC members the opportunity to speak with the residents there. Recognizing that the elderly have contributed immensely to Saint Lucia's development, we believe that just being friendly with them provides some form of comfort, something they might be missing, such as a conversation. So whenever we go there, we try to make some time for them."
The VOICE: What would be some of the other initiatives YEAC has undertaken?
AP: "We've worked with the Ministry of Fisheries and NEMO to clean up the sargassum seaweed that washed up on the Grande Anse beach. We've also made donations of water tanks, first aid kits and fire extinguishers to churches, schools and emergency shelters as well as doing minor repairs to these buildings. We've also done emergency drills at these locations and schools."
The VOICE: Who pays for the group's operations?
AP: "We have sponsors, namely USAID, Caritas and Catholic Relief Services, all of whom have supported the programme throughout by providing financial, logistical and administrative support."
The VOICE: Does YEAC fall under any particular organization's realm?
AP: "Our host organization is Caritas Antilles, which does a great deal of humanitarian work. There's also Catholic Relief Services. We consider ourselves a mix of both because we are a volunteer organization that also identifies as community first responders and a religious organization. However, we do not discriminate against any religion. In fact, when an emergency happens, we all have to respond regardless of our religious beliefs. While we do have Catholic sponsors, we're also showing a different side of the church: that we can go out and meet and help the people to create a positive change in Saint Lucia."
The VOICE: The group won this year's Award for Outstanding Religious Youth Group. What was that experience like for the members?
AP: "From the moment we found out that we were nominated, many of us knew that we would win the award. There was a sense of accomplishment and a burst of energy filling the room when we won that night."
The VOICE: Any final comments?
AP: "Thanks must go to every YEAC member, YEAC promoter, Angel Ernest, the executive of the YEAC team and our sponsors. Your support is appreciated. It really says a lot about people who can find the time to do what they can to develop their communities. I think especially young people who are unemployed should be part of this group because being a volunteer is a big plus on anyone's curriculum vitae."
For more information on YEAC Saint Lucia, visit the group's Facebook page.