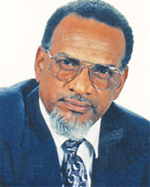 A SIMILAR article was first published three years ago and it's expedient to upgrade and republish.
Allen Chastanet has withstood more criticisms, challenges and blatant lies than any politician, save the deceased John Compton. His patience, tolerance, strength of character has been tested to an absolute limit. And he has not broken or wilted. Instead, he has stood firm, often refusing to answer his critics. This is a mark of confidence…and success. People trust him and confide in him more, as time passes. Even people who distrust politicians who make promises they don't keep, seem to trust Allen Chastanet. Dishonest and scheming politicians have given politics a bad name. They are an embarrassment to their families and the country. The hand-on-the-heart pretense at compassion by a deceitful and cunning face is intended to hoodwink the electorate. On further refection many are convinced that such scoundrels use politics to enrich themselves and their friends. Only the genuine pursue honest work and put the needs of others before theirs.
People admire Allen Chastanet's efforts at rebuilding the UWP and preparing it for government. Supporters of the UWP and the people of Saint Lucia need such a leader at this time. His continuous search for excellence; his fiscally conservative agenda; his obvious international connections are praiseworthy elements deserving recognition. Allen Chastanet is the man most likely to continue the work started by Sir John Compton, the island's first Prime Minister. Those who knew Sir John will have no difficulty giving Allen the opportunity to imitate Compton's exemplary leadership and management skills. Allen must now present a tangible agenda and suitable candidates to the electorate, willing to support him.
In anticipation of such support I present the following eight-point manifesto which I urge him to implement for the social and economic progress of Saint Lucia. I go one step further and suggest that the watchwords of his government ought to be 'Pursuit of Excellence' in honour of the island's two Nobel Laureates. That ought to help rebrand Saint Lucia and lift its image internationally.
Following is the 8-point manifesto:
1. Abolish VAT and find a simple, suitable and equitable replacement tax.
2. Revamp the justice system including new offices for staff and justices.
3. Remodel agriculture and seek out new production systems and markets.
4. Make training, discipline, punctuality and excellence his center piece.
5. Demand excellence and professionalism in work and sports and national security.
6. Re-introduce the departure tax at Hewanorra International Airport (HIA), and let locals re-develop the airport.
7. Fully investigate, IMPACS Report, the Grynberg Oil deal, the abuse of the Consolidated Fund Act and the failed (Nepalese?) off shore school etc.
8. Build a rapid rail line linking Castries, Gros-Islet, Dennery, Micoud, Vieux-Fort and Laborie, as a start.
As political leader and Prime Minister, Allen Chastanet must continue to put past insults behind him. He must find a place within his government and his party for persons who are willing to serve Saint Lucia honourably. He must embrace senior UWP stalwarts who have distanced themselves from the party since the passing of Sir John. He must consult their perspectives on a new national development agenda for the island and how that may impact their communities.
Allen Chastanet must be as focused as a laser beam on the pursuit of meaningful social, economic and political change for Saint Lucia. There is no alternative to bold and fearless leadership. The time for pandering to political votes and deceiving the electorate has passed. The island's present economic situation demands new thinking, beyond the ordinary. The old way of importing new comers still wet behind the ears, without a clear understanding of global financial management issues, and how these impact the local economy must end. Experience is crucial to wise economic and investments decisions, if his government is to secure assistance and lift its youth and jobless to be productive citizens.
Allen has proven his commitment by his many meaningful investments in Saint Lucia. The island needs a strong dose of political leadership to right the wrong that needs redressing giving people an opportunity to succeed in private business, by removing the tax burden imposed by the SLP government. Allen Chastanet with his wide experience in business is more likely to do this than any other politician in Saint Lucia at this time.
The leader of the St. Lucia Labour Party is terrified of Allen Chastanet. His uncalled for outburst against the Chastanet family says more than can be disclosed here about Anthony's over burdened mind. Such fear from an experienced former Minister of Education and Law lecturer exposes a heart seemingly devoid of love and humility. Although comparisons may seem irrelevant, the following should prove interesting for those who dare fathom the observation of the prophet, Jeremiah regarding a deceitful heart.
Writing in his Queek Quack columns in the Crusader George Odlum once likened John Compton's face (Odlum found it ugly) to the heart of Prime Minister Kenny Anthony. Odlum then likened Kenny Anthony's face at that time, to the heart of John Compton. It was an interesting comparison. Odlum had previously written some uncharitable articles about John Compton. But Odlum's latest observation had lifted Compton to the Valhalla of the gods, capturing for all time, the essence of the man. Many have now discovered the Crusader's pin point accuracy – a mean face with a loving heart (Compton); and loveless heart, with an ok face, (Anthony).
It must be the hope of every UWP and patriotic Saint Lucian that behind Allen Chastanet's handsome face beats a heart as genuine as that of Sir. John's. One also prays that within Allen's breast beats his mother's Irish heart, filled with compassion for good co-mingled with his father's heart for hard work, savings and investments. Heaven knows Saint Lucia needs such a leader as Allen, at this time.