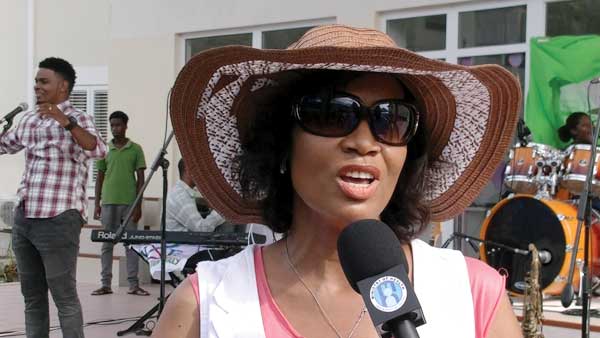 STAFF and clients of the St. Lucia National Mental Wellness Centre were entertained by various artistes like Sisterhood, Linda 'Chocolate' Berthier, Shirleyann Cyril-Mayers and others during the first ever Jazz and Arts show held on the grounds of the facility.
Dubbed the "Jazz Climax: Mental Wellness Centre Edition" the aim was to provide a different type of therapy, musical therapy to clients, in a very light, social atmosphere with family, friends and fantastic music.
One of the organizers of the activity, Jane Charles, the Occupational Therapist at the Wellness Centre was very pleased with the way the event turned out. "Today we planned a Jazz Session for our mental patients. The patients were really excited. Musical therapy is part of occupational therapy and music therapy does a lot for our patients. It helps our patients relax and puts them in a very good mood as well as it helps them sleep properly. So all in all, music therapy is very good for our patients."
Quite thrilled and excited for her clients was the Executive Director for Mental Wellness Services, Charmaine Hippolyte-Thomas, who encouraged opportunities for more social involvement among clients, family and the general public such as this jazz event.
" It is special for me knowing that persons who are able to sing and dance and demonstrate arts and so on are able to come to the Wellness Centre to share with the clients and it is also exciting for me knowing that the clients are not forgotten in the whole spirit of jazz.
Thomas added that the wellness centre will encourage even more opportunities like the jazz event which can add therapeutic components to the care provided at the facility.
"So we are happy when persons come around when families visit in those kinds of settings."
Brian Francis, father of one of the clients at the facility agreed that activities such as the Jazz Climax can help in the rehabilitation of the mentally ill patients and keep them motivated. He encouraged family members to play a more supportive role in the recovery process of their loved ones by simply visiting them more often.
"Actually visiting the patient is like a medication for them. When they see their relatives it's like they have a joy in them and actually that can motivate them to cure faster and get better. So it's a nice thing to have the family members come around to visit. Actually I've got my son here and I am here every day probably sometimes twice a day and he is happy to see me around and I am happy coming around too. I pray to God that I can come around every day to see my son so that he could be better."