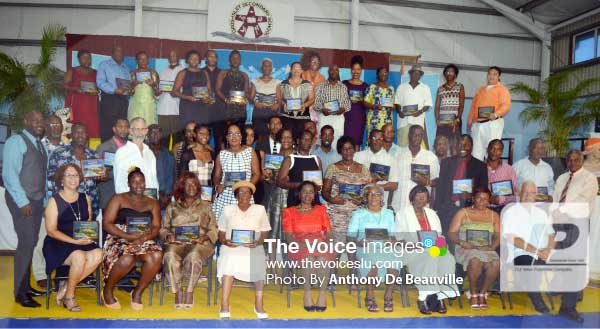 THE Gros Islet Secondary School was a hive of activity on Monday when the Gros Islet Awards Committee held its inaugural ceremony to honour individuals, not necessarily from Gros Islet and its environs, who had made a significant contribution to the town.
Close to 100 individuals in 16 categories – Arts and Music, Media, Nursing and Health Care Providers, Youth Development, Sport Development, Sports, Teachers, Taxi Drivers, Mini Bus Drivers, Famers, Fishers, Micro and Small Business, Mothers, Fathers and Sponsors -were presented with plaques embedded with the Pigeon Island National Landmark.
In her brief welcome address District Representative Emma Hippolyte said, the awards were is to say "thank you for your contribution to Gros Islet and to national development. The Gros Islet awards cover many fields, it cuts across class, religion and most importantly it cuts across party lines, so amongst us here we have some outstanding red, yellow, green and no trouble people. You are been honoured simply for who you are and for the contribution you have made to Gros Islet and St.Lucia".
She added: "We are also recognizing some people who are not from Gros Islet, but who have made a significant contribution and effort likewise. We say thank you"
Those honoured in the various categories were: Arts and Music; Vladimir Lucien, Gregory Piper, Ronald "Boo" Hinkson, Richard Ambrose, Cecil Philgence, Felicite Maraj, Chun Young Jeon, Generva Lambert, Deland St. Jules and Gregory Lorde;
Media: Elijah Charles, Anthony De Beauville, David Pascal and Marius Modeste;
Nursing and Health Care Providers: Eleanor Alexis, Claudius Desir, Clarita Jolie, Jean Frederick, Marie Nicholas and Suzana Jolie.
Youth Development Charde Desir, Raejean Montoute, Kirby Sydney, Darren Gaspard, Zachary Hippolyte and Dr. Stephen King;
Sports Development: Dr. Diane Worrell, Alton Crafton, Kent Crafton, Urban Augustin, Trevor Heath, Sharon Pindar, Tabitha Matty- Shephard, Clarita Gordon, Shane Paul, Joseph " Reds" Perreira, John Eugene and Stephen Mc Namara;
Sports – Brenda Alcide, Timothy Delfus, Mechaela Hyacinth, Marie Murray, Gabriel Biscette and Troy Greenidge;
Teachers – Teresa Alexander-Huntley, Hetty Lucien, Jane Jacob, Veronica Louis, Troy Nestor, Concessa Harold-Daway, Felicita Leonce, Maurica Francis, Naja Fimeon;
Taxi Drivers: Charlie Sonson, Lucien Joseph, Samson Louis, Matthew Albertie, Ernest Quito and Paul Eugene. Mini Bus Drivers – Elie Herman, Anthony Christopher, Anecet Paul, Augustin Louison, Ed Samuel, Vincent Volney, Lincoln Casimir and Anthony Marius.
Farmers: Ephraim Lionel, Richardson Emmanuel, Rogence Louis and Clarence Rambally; Fishers: Antoine Michaud, Conrad Charles, George Joseph, Magnus Alcindor, Andrew Chassang and Joseph Nelson. Micro and Small Businesses: Marie Louis, Nestor Petit, Patrick Prince, Alison Skeete, Juliana Etienne, Catherine Phillip Celia Theodule Marva Denis and Gabriella St. Marthe;
Mothers: Editha Tobias, Elizabeth Smith, Marietta Dorh, Bertha George, Marie Theodule and Anne Noley;
Fathers: John Mitchel and Ferdinand Charles;
Volunteering: Jennifer Gaston and Stephen Ephraim;
Sponsors: Bay Gardens Hotel, Windjammer Landing Beach Resort, St. James Morgan Bay Hotel and Du Boulay's Bottling Company Limited.