50 Boats for Regional Event.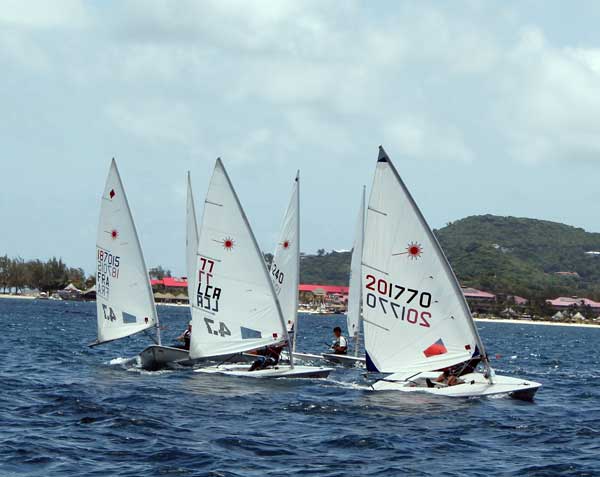 THE countdown is on for the staging next weekend of the St.Lucia Open Dinghy Sailing Championships scheduled for the Reduit Beach.
The event will be held under the banner of The St. Lucia Yacht Club in conjunction with the St. Lucia Sailing Association.
Meet Director, Lily Bergasse, has confirmed participation from Trinidad and Tobago, Bequia, the British Virgin Island, Martinique and host St. Lucia.
According to Bergasse at least 50 boats will be on the water making for a beautiful sight on Rodney Bay. In fact, action already started last weekend when St. Lucia's Green Fleet (beginner sailors) held four races on their own mini championship course.
The SLYC Youth Programme seeks to introduce sailing to children from the age of 7 years at both a recreational and competitive level. It is a sport which teaches not only sailing and water safety skills, but also confidence and self-esteem through problem solving and learning to work with others and with the natural elements respectfully and happily.
This year's Gold Sponsor, DIGICEL, has come in board with great enthusiasm and together with Silver sponsor for the second year, St. James Club Morgan Bay and several Bronze sponsors, have enabled yet another fantastic opportunity for St. Lucia's young sailors, and indeed all of St. Lucia to experience two exciting days of competitive dinghy sailing on our own waters in Rodney Bay.
Bergasse said: "The excitement starts on Friday with the Evening Skippers briefing at the SLYC and an early start to races both Saturday and Sunday from 9: 00 a.m in 4 Classes of racing: Benjamin Optimist ( 12 & under ) Optimist , 4.7 Laser and Radial Laser.
Look for Olympic Scholar Stephanie Devaux-Lovell who will compete in the Radial Class against top Trinidad and Tobago and Martinican sailors. Each Class will comprise 10 races over the two days and results for all will be announced at the prize giving ceremony on Sunday at the Yacht Club followed by a BBQ and social evening for all competitors."