Gros Islet In Super League Action Tonight.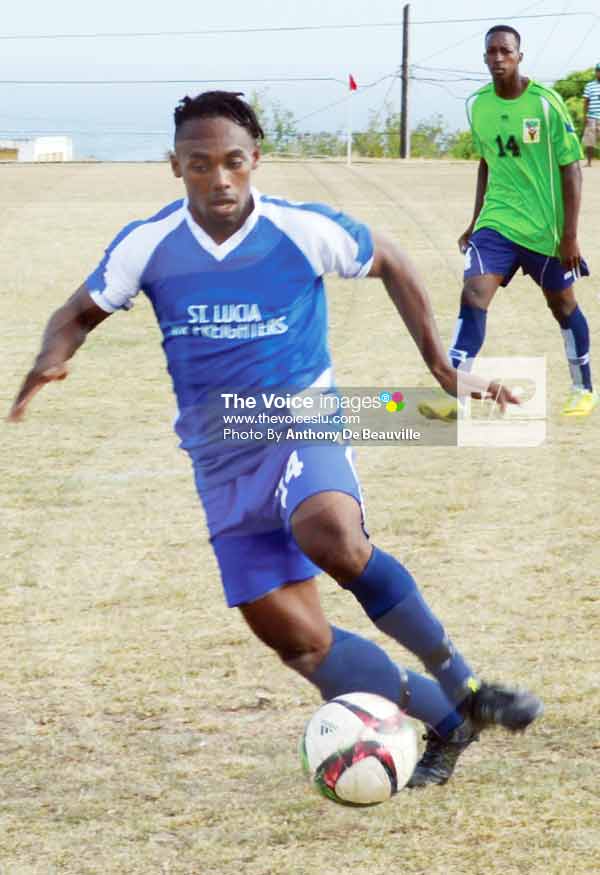 DEFENDING Super League champions Gros Islet will be in tight spot when the Vizions Entertainment Super League Football Tournament resumes at the Gros Islet Playing Field this evening. The defending champions must win if they are to proceed to the quarter final stage of the competition.
Current Group 3 leaders, Central Castries, has added the pressure on the home team as they maintained their winning formula in a must win situation 3 – 1 win over La Clery on Tuesday evening at the Gros Islet playing field to the Group with 9 points. The Group leaders will play home team Gros Islet from 8:00 p.m. tonight.
The scenario for this evening double headers is amazing and it looks like this – Central Castries is currently on 9 points from 3 matches, a win this evening will see them on 12 points; a draw will see them settle on 10 points. Gros Islet is currently on 6 points, a win this evening will see them level on 9 points with Central Castries; a tie will leave them on 7 points; but with a two goal advantage over Central Castries.
In the other encounter – between La Clery and Choiseul scheduled from 6:00 p.m. is equally important La Clery is currently on 6 points and a win will see them settle on 9 points, meaning that they can go through if Central Castries defeats Gros Islet or the match ends up in a draw. The other hand if Gros Islet beats Central Castries by at least a 2 – 0 margin, La Clery will have to win by at least 10 clear goals and that is not possible under the sun as their strikers have let them down in the goal scoring area. Now a win for Choiseul will have them on 6 points giving Gros Islet the edge in terms of goal advantage.
Meanwhile, on Tuesday evening in what can best be described as a tense matchup. Central Castries got goals in both halves from central defender No.13 Emery Edward in the 14th and 56th minute and No. 9 Baggio Lewis in the 90 minute.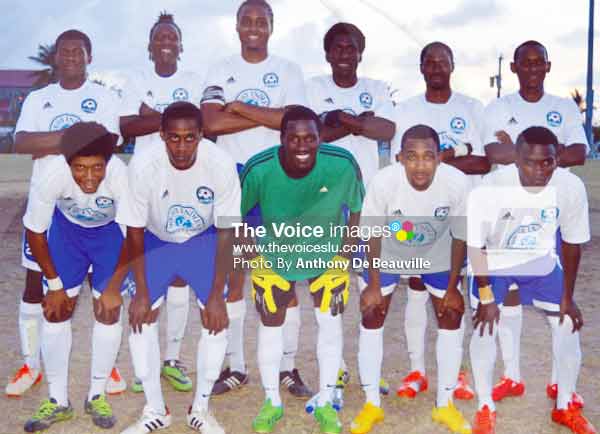 La Clery's lone goal came from the penalty spot when Central Castries No. 19 Troy Fanis handled the ball in the box. La Clery captain No. 7 Jonathan Allen made no mistake when he hit a low right foot shot straight down the middle with Central Castries goalie Kennedy Duncan going in the opposite direction. It must be noted that Duncan came up with three brilliant saves in the dying moments of the encounter to save the day for his team at a point where the scores were 2 – 1 and La Clery had started to mount relentless pressure on the opposition.
In the second encounter Choiseul came from behind to win 4 – 2 over South Castries to secure their first points in the tournament and maybe a chance to finish at least third in the group.
South Castries took the lead in the 10th minute when No. 10 Travis Valcin shot one past the Choiseul custodian. No. 9 Henson Faucher equalized in the 33rd, while No. 17 Jesse Stephen made it 2 – 1 in favor of Choiseul in the 45th minute to seize the half time advantage.
On the resumption Choiseul No. 14 MahvyRismay put his team further ahead in the 73rd minute to the joy of the small group of supporters that travelled from the south western village. In the 80th minute Choiseul's No.9 Henson Faucher scored his second goal in the encounter to make it 4 – 2, while South Castries No. 8 Neil Smith cut the deficit by one a little too late in the 86th minute.
Choiseul custodian No.1 Vince Agdomar had to be given medical attention after he received what appears to be a serious blow to the rib area in the 86th minute of play.
In the south of the island last evening in another crucial match up – Soufriere on 6 points took on Dennery on 5 points, while Anse la Raye with 1 point played Vieux Fort North on 4 point.
Mon Repos is the other team in Group 1 and is currently on 5 points waiting patiently for the outcome.