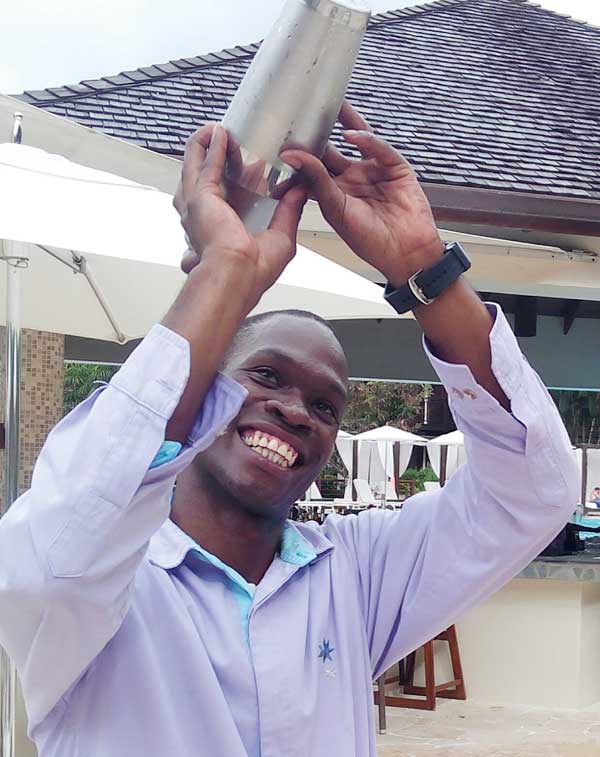 RON Hilaire, Brut Bar & Pool Bar Bartender at Capella Marigot Bay Resort and Marina, has emerged winner of the Saint Lucia Hotel and Tourism Association's national bartending competition.
Hilaire was presented with a mystery bar full of local ingredients from which to concoct an inspiring cocktail. The result, aptly titled "Tasty Saint Lucia" blended coconut rum, watermelon, mango and fresh lime.
This award winning cocktail has placed Hilaire on Saint Lucia's National Culinary Team and he will be competing against other Caribbean countries in Miami during this year's Caribbean Hotel & Tourism Association's 'Taste of the Caribbean' competition from June 6 – 10.
Hilaire has the task ahead of not only representing Saint Lucia among the culinary best of the Caribbean, but also of competing to bring back to Capella Marigot Bay Resort & Marina the title of Caribbean Bartender of the Year.
Hilaire is described as an introvert. However, get him mixing his favourite drinks, and he is in his element. With four years of bartending under his belt, Hilaire admits he never really knew he wanted to be a bartender. Now that he has "tasted" the hotel experience, he says he plans to "stick with it for a while."
Hilaire acknowledges his creativity, which he uses to design exciting cocktails featuring local ingredients in new ways. In the near future, he plans to release "How to build your own cocktail", a collection of bartending know-how. Ron is very keen on participating in the Taste the Caribbean competition, and plans not only to 'wow' the judges, but also to have a lot of fun in the process.
Capella Marigot Bay Resort and Marina wishes Ron all the best as he embarks on this exciting journey.
Bartenders from the competing national teams prepare a variety of drinks to demonstrate their creativity, skills, personality and showmanship. Three rounds are scheduled for beverages in the categories of non-alcoholic, vodka and rum. Each bartender has five minutes to prepare three portions of the beverage. All participating bartenders compete for the honor of Caribbean Bartender of the Year. In this final round bartenders have thirty minutes to review the content of a mystery bar, and then design and prepare a cocktail of their choice.
'Taste of the Caribbean' is the region's premier culinary competition and cultural showcase. Introduced in 1993, this provides the best chefs and culinary teams annual opportunities to unite and learn, demonstrate their skills and provide the general public a scintillating exhibition of the most savory and delectable treats of the islands.
Over 10 teams from the Caribbean throw their culinary hats into the ring to compete for the honor of becoming the best chef, culinary team, bartender and pastry chef in the Caribbean. Each participating team represents a Caribbean island and has competed on a national level to qualify and participate.