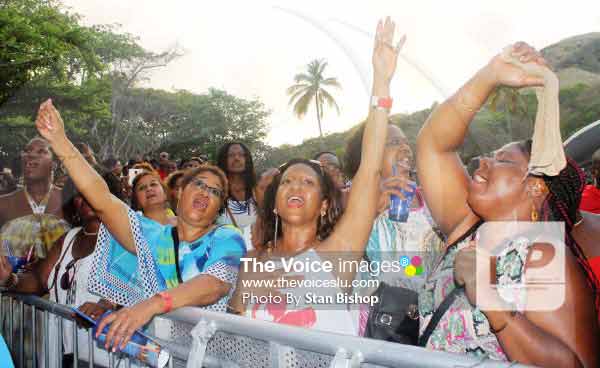 HEADLINER for this year's Saint Lucia Jazz & Arts Festival, Marc Anthony, ended the festival's silver anniversary on an anti-climactic note last Sunday evening at Pigeon Island National Landmark.
Anthony, a two-time Grammy winner and five-time Latin Grammy winner, is best-known for a string of hits that include "You Sang To Me", "When I Dream At Night", "I Need To Know". But after beginning his set with "I Need To Know", the American pop/salsa singer belted out a slew of salsa songs for the rest of his performance.
Anthony is dubbed the top-selling tropical salsa artiste of all time with over 12 million album sales globally. But by his third song, patrons were seen exiting the venue in droves, many of them complaining that Anthony's performance was disappointing.
"I just think that if he had chosen to sing his English and Spanish songs in rotation, it would have made a difference," one patron told The VOICE after Anthony's performance. "I mean, I don't think many of the patrons who showed up even know the songs he sang."
Other patrons complained that organizers had enough acts on Sunday's lineup to choose from to close the festival. Many also felt that Anthony's lackluster performance almost mirrors that of Jamaican dancehall artiste, Mavado, who headlined the season opener on April 29.
But Anthony and Mavado's were not the only performances that seemed to have left many patrons feeling shortchanged.
Main Stage Friday began with Omi failing to cheer up the crowd with most of his songs until he finally performed his popular hits, "Hula Hoop" and "Cheerleader". But it was Teddyson John that really brought the crowd to life, performing some of his audience favourites, including "Allez". Things got even more high-energy when Kes and Da'Ville joined in the mix, a musical chemistry that the audience just could not get enough of.
Despite performing here on previous occasions the ever "bombastic" Shaggy failed to come close to the performance that impressed fans when he last headlined at Main Stage Sunday six years ago. Aside from his earpiece that kept falling out throughout his performance, Shaggy spent more time speaking with the crowd and giving them dance lessons. But he did manage to squeeze in a few of his tracks, though, including "Boombastic", "It Wasn't Me" and "Angel", with Rayvon and Popcaan making cameos.
The band BWB (Norman Brown, Kirk Whalum and Rick Braun) hit things off on a great note on Saturday, giving the audience some groovy jazz sounds that made the sizzling sunshine seem second nature momentarily.
But it was Omarion'slackluster performance which came across more like a reality television show than a music concert. The former B2K band mate, known for chart-topping singles such as "Bump, Bump, Bump" and "Ice Box", seemed more interested in his dance moves and letting his DJ unleash a barrage of recorded songs while he lip-synched a few lines here and there.
There was no stopping Irvin "Ace" Loctar, though, who restored some normalcy to the day's proceedings by giving the patrons both an energetic and captivating performance. With a set that also included original music produced by the ace producer, "Ace" did more than enough to eclipse his previous Main Stage performance.
Zouk band, Kassav, is definitely among those artistes who came, delivered and impressed. The band, which has been performing here regularly, spent close to two hours jamming the thick audience with their creole flavour. The positive response from especially the visiting French patrons only added to the mix as the band played a wide array of songs from their extensive playlist.
The phenomenal Ronald "Boo" Hinkson opened Main Stage Sunday on a high note with the searing heat offering no respite. The veteran guitarist and friends – "Irvin "Ace" Loctar, Shannon, and Arturo Tappin, to name a few – began the day with some smooth jazz rhythms that set the tone for George Benson who came after them.
Benson had the fans feeding from his hands as he performed some of his nostalgic tracks such as "Turn Your Love Around", Kisses In The Moonlight", and "Nothing's Gonna Change My Love For You". Despite the day's heat getting the better of him, the veteran managed to continue his set after being attended to by the EMTs backstage.
Air Supply actually seemed to make some fans lose their breath. From the moment the band came onstage and ripped into "Even The Nights Are Better", the music did become better from there on. Patrons sang along with the band as they performed other fan favourites like "Just As I Am", "Every Woman In The World", Here I Am" and "Making Love Out Of Nothing At All".
By the time Kool&The Gang came onstage by late afternoon, the day had already begun to cool off. But the band spared no effort in raising the temperature again fresh from the start with "She's Fresh". The funky mood continued with "Too Hot", "Cherish", "Ladies Night", "Get Down On It" and "Celebrate", which many patrons felt was the right mood in which to end the show.
The musical numbers at Main Stage Jazz were as varied as the numbers of patrons showing up on the days. However, final figures should be forthcoming from the Saint Lucia Tourist Board (SLTB) shortly.
With plans already being made for next year's festival, organizers will definitely need to do more to satisfy patrons' tastes in the selection of foreign artistes. Saint Lucian and regional artistes, however, seem to have lived up to patrons' expectations, especially for the side stage performances, with many of them being described as the true stars that outshone some of the international stars who failed to deliver performances deserving of the festival's silver milestone.