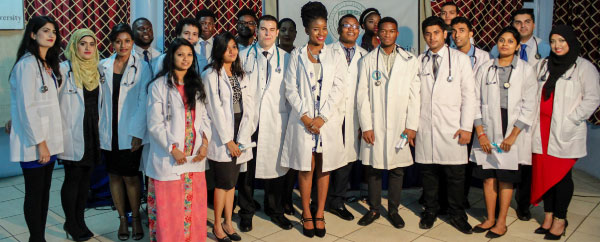 TWENTY-TWO students began their journey into the medical profession when they were formally enrolled with the International American University College of Medicine at its white ceremony, held at the National Skills Development Centre (NSDC) last Friday.
A striking feature of the ceremony was the students donning their white coats and stethoscopes, and their recitation of the Hippocratic Oath, which spelt out what is expected of them as physicians in training. It reads in part: "I publicly acknowledge and accept the privileges and responsibilities given to me as physician in training and dedicate myself to provide care to those who need…"
In his remarks, Dean of Basic sciences, Dr. James Villanueva urged the students to work hard to achieve their goals.
"This programme will open new doors and opportunities for you. Stay humble and prepare for the challenges ahead," he said.
Executive Dean and Chief Academic Officer off the school, Patrick Gannon described the enrolment of the students with the school as a monumental step. He implored them to keep focused on their studies and not be daunted by the challenges which they will face.
Guest speaker, St. Lucia's former High Commissioner to the UK, Eldridge Stephens, said: "You have chosen at this time of your life to devote yourself in satisfying a great need of a people. The first step in your life as medical students is taken this evening with this ceremony."
He added: "By this, you have consented to a bond of faith and agreed to a contract for ethical practice and behaviour. You have signed on to a commitment to pursue zealously and efficiently, that course of studies to the desired end."
According to Stephens, the white coat represents an element of purity, which the students must respect.
"This ancient and noble profession calls for honesty, humility, respect, trust, understanding and dedication among others… If you're without compassion and heartless, you can't be a good doctor," Stephens said.
He told the students that there was no place for selfishness, dishonesty nor complacency in their chosen field.
In their remarks, several students expressed their determination to make the school proud by performing well in their exams. They said they were prepared for the challenges which lay ahead and were confident they would achieve their goals of becoming a successful physicians.