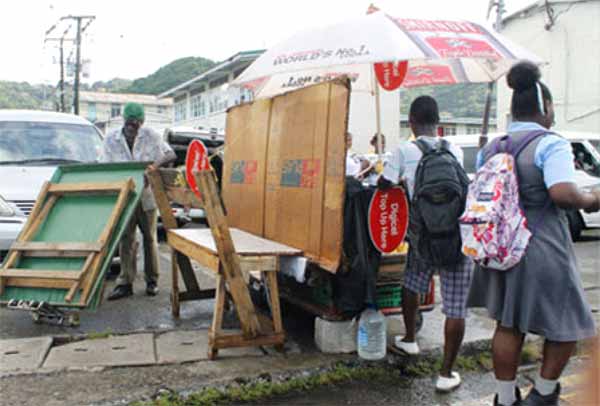 AM I terrible for reaching to the point where I am "sorta, kinda" wishing for a visitor to fall or get hurt as a result of having no choice but to walk on the streets or into a gutter because they had no space to walk along the vendor filled sidewalks of Castries?
Maybe then, somebody high up somewhere will realise that the problem of vendors who have hijacked the part of the streets designated for pedestrians to walk along has grown way past ridiculous.
Since I began working in the media, I have sat down with two different heads of the CCC who have vowed to address the problem and have gone as far as issuing deadlines and eviction notices to the vendors to no avail.
There is now a new director, a third one and still, after five years of promises, n-o-t-h-i-n-g has been done and in fact, new and more imposing trays are popping up all over the place including right along the median on Jn. Baptiste Street.
I don't think you readers realise how much this issue grates on me!
Every single time I have to go into the city, I literally have to talk myself into it and I even try to weigh out the need to go versus the want.
Most times, unless it is absolutely necessary, I change my mind and either stay home or go to the north of the island to either hang out or do my shopping…and to think, I practically live in the city.
I am perplexed about the fact that these people are allowed to set up shop or should I say, tray, along every single available piece of sidewalk along the city's streets.
Now vendors, before you jump down my throats, I'm not trying to knock the hussle…I know, understand and respect that you are trying to earn a daily bread, but like my mum always says, give Jack his jacket and Larry his jarry, Do you honestly think that your actions of taking up 80 percent of a tiny sidewalk and forcing pedestrians to shuffle cautiously in a single file in front of your tray is fair?
There are so many culprits that singling them out would turn to calling out the majority of them.
Culprits like the vendor opposite the Pavee bus stand along Coral Street who not only has a massive tray taking up most of the sidewalk, but at 5 feet 8 inches tall, I have to crouch down when walking in front of her tray because she has a umbrella which is secured by a tarpaulin that stands at roughly 5 feet 6 inches and protrudes over the remaining 15 percent of the sidewalk that her tray is not covering.
To make matters worse, she always has hordes of student customers and/or friends who stand on the tiny piece of available walking space and not even screaming "Excuse me please" will cause them to budge. So you are faced with no other choice but to walk on the street with constant traffic at your back.
Or the culprits along Jn Baptiste Street…you have no choice but to walk in the gutter between the sidewalk and the parked Gros Islet Minibuses…I even heard one say, with my own two ears that they own this particular sidewalk and no one can tell him what to do.
Don't even get me started on the hideous metal eyesores surrounding the Ave Maria Girls School and along Micoud Street…surely the clear and present danger in the form of obstruction in case of emergency should be enough to catch somebody's attention?!
If there is a massive fire or a bomb threat etc, where are the little girls going to run to? Along the street? They most certainly cannot assemble along the sidewalk.
Also, we are talking about old rusty metallic structures that are not properly set up and children as young as four years old…need I say more?
I have a two year old who thankfully does not like being carried around because according to him, he's a big boy, but what about the parents walking around carrying babies or those pushing baby prams? Where on earth are they supposed to pass?
Even more importantly, I am willing to bet that vendors play a big part in preventing the elderly and disabled from leaving their house s (and don't you dare say that they should not be out and about because they are people too with wants, needs and lives).
Mr. Minister of Tourism, since the CCC is not doing what we taxpayers are paying them to do, perhaps you could step in and put your foot down as surely you don't want this hideous sight to greet our "precious" tourists.
Yes, I am literally begging you Mr. Lorne Theophilus to step in and do something about this as I know that you are wise enough to see how this is affecting your sector.
I am not even going to bother asking the CCC anymore because like I said earlier, they are completely useless and I have zero confidence in them getting the job done.
Mr.Theophilus, I am asking you to take a walk along Coral Street, Jeremie Street, Jn. Baptiste Street, Chisel Street and Micoud Street…these are the heavily congested streets.
Take a stroll there and tell me how you like moving at a snail's pace in a single file in the blazing sun or if you are brave enough, do it on a rainy day where not even the biggest "Voomtac" will save you from the tarpaulin baths and wet rusty metal staining your light coloured clothes.
Try that and tell me how you like it, then think of what must go through the minds of visitors to our beautiful island.
This is the city I'm talking about…our capital, the part of Saint Lucia where thousands of visitors see first when they touch down in our island.
Whilst there are many other issues, surely you can see the gravity of this one…please, please, please address it.
Seeing that this issue has been in existence and in fact growing for so many years, it is clear that no one is going to address it for the sake of locals but I am hoping that you Mr. Tourism Minister will see fit to do it to protect your tourism sector.
CCC, I just have to shake my head in disgust because you people have failed us, the people who pay your salaries and the excuses and empty promises and threats are disgraceful.