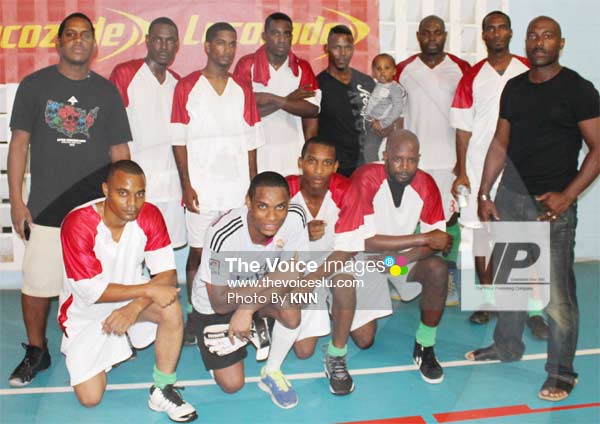 A record crowd is expected for the final of the Chamber of Commerce's Futsal League tonight at the Beausejour Indoor Practice Facility.
The third place silverware match between SLASPA and St. Lucia Distillers will kick off at 7.25 p.m. ahead of the championship match at 8:20 p.m.
Based on previous matches played by these two teams in the tournament one expects the coaching staff to be discreet in the way they work the beach during the two halves, but equally important will be the starting fives.
For FLOW the likes of No.10 Anthony James, No.9 KenwinMcPhee, No.19 Aaron Sylvester, No.13 Kissinger Anthony, No.8 Anthony Christopher and No.11 KelabJn Baptiste are expected to come out firing at their opponents. Likewise Teachers Union with the experienced and tactical Anthony Lamontagne as part of their coaching staff will have No. 20 Lynch Isidore, No. 4 Dyke Francis, No.10 Miram Joseph, No. 14 Jean Claude Xavier and No.5 Randy Poleon all whom have troubled the scorers and their supporters expect them to continue their high scoring against the telecommunication company. What a match it will be!!!!
Meanwhile, it was entertainment from start to finish last Friday in the four quarter final matches played as 37 goals were scored. In Game 1, Teachers Union defeated the Ministry of Infrastructure 10 – 4. For the Teachers Dyke Francis and Jean – Claude Xavier each scored a hat trick, Lynch Isidore hit two and Randy Poleon one.
For the Ministry of Infrastructure Kareem Doxirie scored twice and there was a goal each for Xavier Boudhar and Stanley Prospere.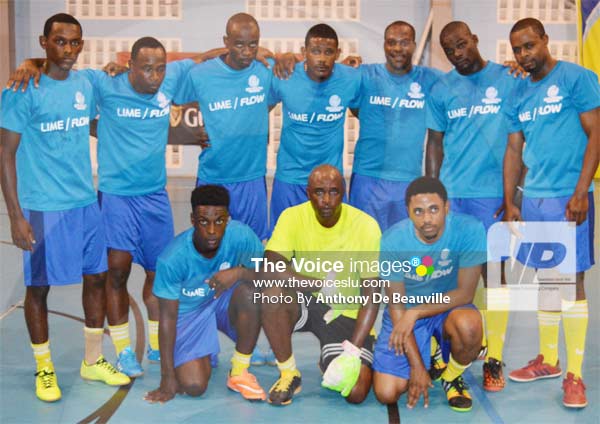 In Game No. 2, Saint Lucia Distillers defeated a highly talented Sandals Halcyon 4 – 2. For Distillers two goals each came from Jamal Antoine and Kevin Antoine. For Sandals Halcyon one goal each for Simon Cleveland and Henry.
In Game 3 – SLASPA had a hard fought 6 – 4 win over Sandals La Toc. For SLASPA Ardan Etienne and Andrew Charles scored two goals each, and there was one each for Guy Jn Baptiste and Dillon Marquis. For Sandals La Toc, Ravi Wilfred scored one goal, while Ferguson St. Claire kept the SLASPA custodian busy between the uprights when he scored the third hat trick of the evening.
It was action from start to finish in the final encounter of the night between Caribbean Metals and FLOW with the latter winning 4 – 3. For FLOW Anthony Christopher scored twice and Anthony James and KelabJn Baptiste scored one apiece. For Caribbean Metals PurciusNarcisse scored two goals and Trevor Louisy one
In the semifinal round on Saturday evening Teachers Union continued their heavy scoring when they defeated one of the tournament favourites St.Lucia Distillers 5 – 1 with Jean-Claude Xavier and Dyke Francis scoring two goals each, while Nehemiah Wilfred got the other. For Distillers Jamal Antoine was the lone goal scorer.
In Game No.2 FLOW breezed past SLASPA 4 – 1 with Anthony James and Anthony Christopher each scoring two goals, while Allan Amos pulled one back for SLASPA in a losing effort.