Seeks Apology For IMPACS Statements.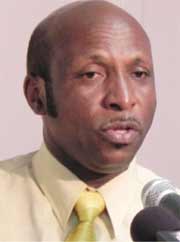 PRIME Minister Dr. Kenny Anthony has been served with legal papers calling on him to desist from repeating disparaging remarks linking United Workers Party Chairman, Guy Mayers to 12 alleged police killings from 2010 – 2011.
Mayers also wants the Prime Minister to desist from connecting developments emanating from the investigation into those killings by CARICOM's Implementation Agency for Crime and Security to him as well.
Mayers also wants the Prime Minister to apologize for the disparaging remarks made against him, such apology to be made on terms approved by Mayers' attorneys.
Mayers is primarily concerned with the statement made by the Prime Minister that he, Mayers, is responsible for the events or developments emanating from the fatal shooting incidents that are being propelled by Americans and Europeans, the former already having placed sanctions on the aid given to the police force, and the latter warning of similar consequences if the government does not follow due process in its prosecution of the perpetrators of the alleged killings.
It was last December at his party's 65th anniversary celebrations in Vieux Fort that Prime Minister Dr. Kenny Anthony first mentioned Mayers as the one to be blamed for IMPACS seeing that he was National Security Minister during the time of the fatal shootings.
Mayers at the time had declined comment when asked to respond to the Prime Minister's charges on grounds that he was seeking legal advice.
However, yesterday he told The VOICE that the Prime Minister had repeated his comments over and over even at Labour Party meetings that were streamed via the internet.
"I had no choice but to serve those papers. I have my reputation to protect," Mayers said.
The United Workers Party Chairman is also calling for monetary compensation for what he termed "consequential damages" arising from the Prime Minister's statements.
According to Mayers, some media houses could also find themselves being served with legal papers, although Mayers said, he has not yet made up his mind about that.
Attorneys for Mayers, Gordon and Gordon, are awaiting a response from the Prime Minister to determine their next move.