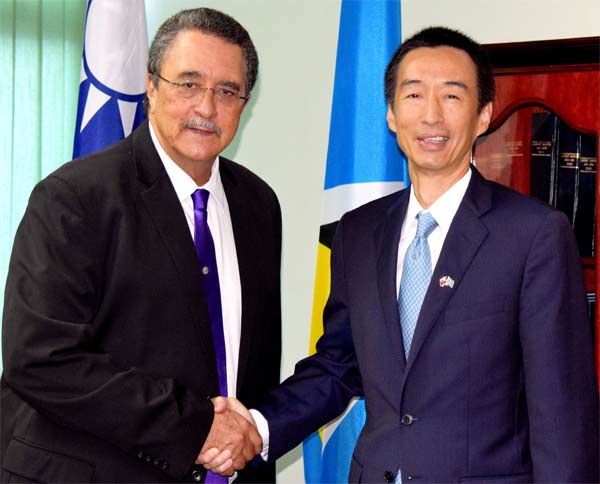 THE Embassy of the Republic of China (Taiwan) has once again demonstrated its support for the Government and people of Saint Lucia, with a generous donation for the advancement of various national improvement initiatives.
Ambassador of the Republic of China (Taiwan) to Saint Lucia, Mr. Ray Mou, presented two cheques to Prime Minister and Minister for Finance, Dr. Kenny Anthony. The cheques totalled $3,888,113.57.
An amount of $2,902,583.35 was presented for works towards completion of the Gros Islet Human Resource Development Centre, a two-level structure, which will incorporate an auditorium, conference facilities, a concession area, office space, and a restaurant facility with on-street access.
Prime Minister Anthony welcomed the gesture of support from the Republic of China (Taiwan), noting that the arrival of this performance, conference and meeting space can be transformative for the people of Gros Islet town, suggesting that correct use of the complex can have a profound effect on the culture of the community.
Said Dr. Anthony: "I expect that it will also add value to the tourism product of the town as it would mean that the town can now infuse the arts more into its vibrant nightlife. It will now have a theatrical space for performances and shows.
Additionally, an amount of $985,530.22 was presented towards the ongoing completion works for the Vigie Beach Vending Facility. Managed by the National Conservation Authority, the new home for vendors along Vigie beach is expected to be ready for occupancy within the next two to three months. The project was started in July 2014.