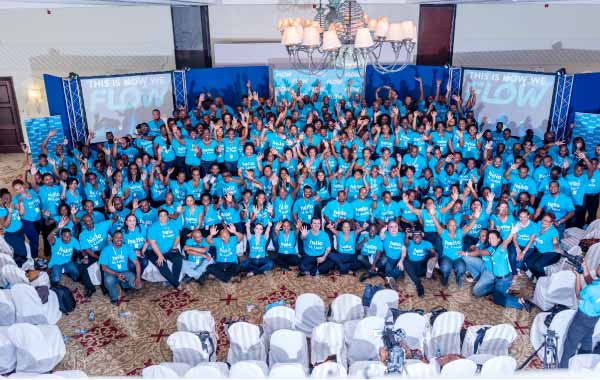 THE Telecommunications giant FLOW has now been officially launched in Saint Lucia.
The new company was born following a merger last year between LIME (Cable & Wireless Communications) and Columbus Communications (formerly Karib Cable).
In a media launch yesterday morning at the St. James Club resort, FLOW promised to provide customers, new and existing, with a service that is second to none.
Country Manager of FLOW St. Lucia, Geraldine Pitt said this move is part of the company's regional rebranding strategy.
Pitt said she was very proud of the new feat especially as it was a positive reflection of the Caribbean's people and pride as well as a reflection of the team spirit which was instrumental in the company's success.
She said: "We're looking at exciting products and services but moreover, I think we're looking forward to the experience of the customer. The investment that we are making in terms of our call centre, in terms of our retail, in terms of our people most importantly because you know, we value our employees tremendously and so we understand the role that they play in making sure that the customer experience with us is a positive one. So we're working really hard from that point of view."
Pitt added that the new company will go above and beyond to ensure a satisfactory service to all customers in every aspect ranging from products to packages and payment outlets.
She said: "You can expect a lot of changes from our retail stores. What you see today is just the start of it, the tip of the iceberg…. In the next few weeks, we'll have a brand new store in Castries. We are transforming the way we do things in town…we're taking out the old transactional way of doing retail and making it a whole lot more customer focussed."
Celebrations for the launch included an all day customer appreciation day and a Friday night Block party at the Gros Islet street jam.
The celebration continues into today with a round the island motorcade where there will be prizes and surprises for customers .