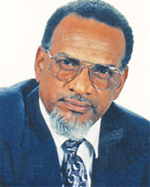 CONSIDER the following: In a place where silence is gold and fear rules like a sacred commandment from on high, anyone who dares to speak out on an issue of national import may be instantly labelled, 'crazy.' And when in that same place some persons choose to speak out in an election campaign, others call it 'the silly season.' Why silly season and not crazy season? Consider this also: If people went silent, would that place as we know it be better off? And what purpose would silence serve in the face of criminals and their leaders who had developed a sign language of their own to further defraud those who would not speak?
Think about it. Christianity teaches to turn the other cheek and to be obedient in all things to their God and masters. In addition, western education has taught that speech is silver and silence gold. Gold a precious metal that measures a man's worth and a nation's wealth. The gold standard points to success in innovation, production and trade. Gold continues to drive men to plunder each other whilst avarice, greed and false pride lead to criminal acts of all descriptions. Greed exploits people by using deceptive words.
In such an atmosphere of learnt silence and fear those who dare to speak out are branded as silly or crazy. In such an atmosphere of studied silence only the brave and fearless will be heard. Others are reduced to whispering behind closed doors. When those who rule use speech to manipulate the minds of the voiceless, the society begins ever so slowly to bend towards bloody revolution. Return to F. Fanon, W. Rodney, E. Williams, F. Castro, L. Best, C.L.R. James, N. Chomsky and others of like minds. From these one learns that a new message of social and economic progress is embedded in the hearts of oppressed peoples everywhere. Those who have brought misery upon the heads of the masses must pay.
One must therefore be careful that those with a new message of hope are not dissuaded under the rubric of 'the silly season,' from speaking out. Even those who are incapable of clear logical articulation need their moment in the sun. They must not be denied an opportunity by those who think their conversations 'silly.' Failing which a deliberate masking of words by those who pretend to be silly and slightly off may be the undesirable result of minimizing their contributions. Those who knowingly express an unpopular view ought to be encouraged to explain such views. They should be encouraged and not be frightened away.
'The silly season' ought therefore never to imply a return to the pre-universal adult suffrage era, where pervasive fear and intimidation ruled and basic human rights were denied. Can anyone blame the poor guy who dares to speak out while hiding in cloaked insanity or drunken stupor? More to the point, can the word silly be reasonably applied to someone who dares to speak out against a social and economic situation which relegates him to the bottom of the pecking order in society?
Should persons who think themselves above everyone else be allowed to piss in peoples' eyes and call it rain? Would it not be more appropriate if those at the receiving end of such urinary waste decide to jettison silence and return the insult with words and thoughtful action of certain force? What good is silence if the only remedy against the tyranny of political failures posing as law givers and saviours is the spoken word back by legitimate action? Or would some shameless persons rather hear, not a word, not a word, not a word. Let whoever wants to say 'silly season' say so but also let all ideas contend openly, with free speech.
Silence is not the correct path. Better to be called silly than cowards. Better to be called brigands than house slaves. Better to be called God-fearing and peaceful, than backward, stupid and silly. Better to be called Arthur or Derek than any other which does not recognize a father figure in their lives, for whatever the reason. We have heard it said that every child needs a father. From where I stand, it seems that some men need a father more than a child does. The absence of a father may well be that which turns a man into a casual donor of male gametes, and little more.
Only those who deliberately choose to remain silent and are frightened by loud-mouth political aspirants or of failed rulers can legitimately be called silly during an election campaign. Instead, 'the silly season' ought to refer to the wise that choose silence and to speak sparingly. Those who are prepared to invest their scarce silvery speech are aware that golden silences may not further their legitimate causes, but the choice is theirs. On the other hand those who dare to speak out from some self-imposed taboo cannot righty be fingered as silly.
Any dialogue which promotes discussion with worsening conditions after a general election is far better than silence. There's no point in the behaving like dumb driven cattle when one is suffering due to misguided and silly leaders. In such situations; 'not a word, not a word, not a word,' ought to be the preferred path.
This island has witnessed lies distortions and deafening silence from those who know the truth about IMPACS and its death list. Is such silence meant to resolve the IMPACS issue, and the Juffali matter? And if citizens speak out on information garnered from fearless journalists, isn't it better than remaining silent because someone has said it's 'the silly season? Breaking the silence on matters which affect the nation is infinitely superior to allowing politicians to piss in our eyes calling it rain. We are better than such gross insults – we can stand up as before.
After the deceit of the VAT, after the tax on water, after the IMPACS and Juffali matters, how can anyone in good conscience say 'all dem politicians are de same.' and to call it 'the silly season' when we decide to speak out for our dignity and self-respect as a people? And so this election 'don't give up, give them up.' It's time to man-up and raise your voice. Let those who wish, call it 'the silly season,' but don't let them piss in your eyes and call it rain. You may curse the darkness, but you must also light a candle in this season of enlightenment.