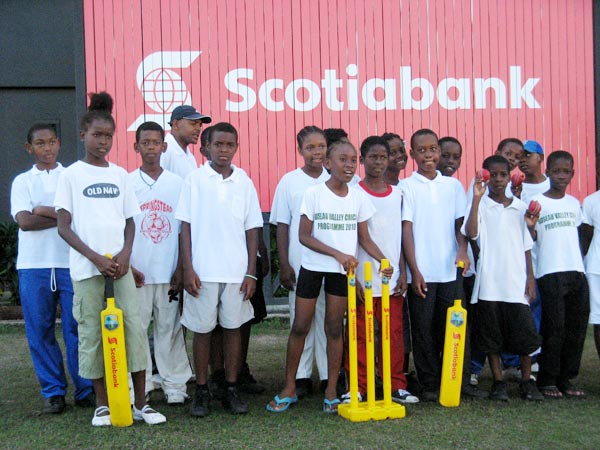 UP to January 2016, the West Indies Cricket Board (WICB) is reporting that at least 20 of its senior players at the first class level, men and women and now three of the winning under 19 team members have benefitted from the relationship with Scotiabank and the Kiddy Cricket Programme.
As both organisations get ready to enter their 16th year of partnership, both organisations are reporting its "positive outlook" for the programme going forward. The Kiddy Cricket programme across the region which focuses on children up to 12 years old, has just about 110,000 children and is "set to expand within the next two years" according to Senior Project Officer, KJ Singh.
Jamaica has increased the number of schools to 224, featuring 84 new schools; while Trinidad and Tobago will be expanding its programme by mid-year. As the WICB plans to grow many of its development programmes which includes the ScotiabankKiddy Cricket programme, the organization has teamed up with UNICEF (UNICEF Jamaica and UNICEF Office of the Eastern Caribbean Area) and a number of national child protection agencies across the region, to aid in the facilitation of child protection training workshops for coaches and PE Teachers.
The Windward Islands has the highest number of schools in the programme with 235 and that include schools in Dominica, Grenada, St Lucia and St Vincent. In total, just under 920 schools are involved in the programme region-wide.
PROFESSIONAL PLAYERS
Of the players now plying their skills in the professional set up, see the list of who were part of this skills-based programme from an early age:
• Jason Holder (Barbados / WI); KraiggBrathwaite (Barbados / WI); Shane Dowrich (Barbados / WI); Shai Hope (Barbados / WI); Roston Chase (Barbados); Kemar Roach (Barbados / WI); RaymonReifer (Barbados / WI A Team); Steven Jacobs (Guyana / WI Under 19); Jonathan Foo (Guyana / WI A Team); Jermaine Blackwood (Jamaica / WI); Jahmar Hamilton (Leeward Islands / WI A Team); Montcin Hodge (Leeward Islands); Jeremiah Louis (Leeward Islands); Hayden Walsh Jr. (Leeward Islands); Stephen Katwaroo (Trinidad & Tobago / WI Under 19); Jeremy Solozano (Trinidad & Tobago / WI Under 19); Sunil Narine (Trinidad & Tobago /WI); Derone Davis (Trinidad & Tobago / WI Under 19); KeddyLesporis (Windward Islands); Delorn Johnson (Windward Islands / WI Under 19 & A Team) and Britney Cooper (Trinidad & Tobago / WI Women's Teams)
UNDER 19
• Shamar Springer – Barbados, Ryan John – Grenada, Gidron Pope – St. Vincent & the Grenadines
The Kiddy Cricket programme focusses on basic cricket skill development, geared at learning to play the game in a fun and explorative manner, while inducing strong foundation components of teamwork and leadership.
Singh is reporting that there has been steady growth over the last three years and with the bank's commitment to continue the programme that number should grow by 10 – 15 per cent over the next two years.
"The ScotiabankKiddy Cricket programme is an important starting point for any young male/female who plans to play cricket and develop a love for the game. While the programme is focussed on children developing early cricket skill sets, the leadership and academic elements compliments the overall strategy of what we are trying to achieve, which is developing well rounded children," adds Singh.