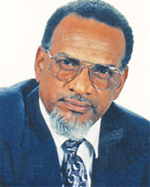 FROM time immemorial men have been hunters, gatherers and wanderers. It seems a role designed by nature and by God. By nature in the way he is built and his role in procreation; by God, as written in the Holy Bible. It was Joseph one recalls, who was spoken to when God desired that the child Jesus be taken to Egypt for his safety, until Herod died and the child grew up and returned to Galilee. It seems that history and circumstance should look upon men as protectors, warriors and providers for their families. However, if one were to take a closer look, it would be difficult to deny the crucial role women play in all aspects of family life.
For emphasis man was born of woman though the biblical story of creation is in conflict with that reality. My first memory of childhood was of a father who regularly went out to work, instilled discipline and acceptable conduct, not sparing the rod. Crucially, it was the mother or grandmother (sometimes even a great grandmother), who cared and nurtured children whilst the father was out. Such was the trend in other families in which women were the heart and anchor of the home and family. The role of strict discipline was assigned to fathers and uncles, who were to prove themselves in that department. But it was mothers who decided what offence ought to be reported.
Such early observations had ingrained in me the important role of women in teaching children correct manners and basic house chores. Women have always been the more visible presence and sturdy foundation of the family, however supportive and essential fathers were, and are. It is such understanding which leaves me somewhat bemused at the new discovery and recognition of the role of women in society today. I look in amazement at the way tributes are arranged for deserving women. I smile when I perceive that those being recognized are better placed to offer advice on how to ameliorate the hardships of families and help other women overcome thereby enhancing their role in society.
To further illustrate a point that bears cementing, take a closer look at the society; first the island's Nobel Laureates, then the leaders of commerce, government, religious, civil institutions and the public at large. It will be observed that behind every successful person (man in particular); there is a woman, usually a mother or a grandmother. There are of course exceptions, but these merely serve to prove the general rule of the positive role women have played and continue to play in the lives of successful men. Such success is founded on honest hard work and perseverance, underpinned by thrift, prayerful meditation and quiet reflection.
It is for these reasons that persons of my generation and those before have always appreciated the central and crucial role of women in shaping the minds and quality of children … and society. This leads one to suspect that behind this sudden rush of appreciation of women and planned media events recognizing women may have more to it than meets the eyes.
Perhaps the best way to praise women in Saint Lucia and elsewhere is to look at the useful law-abiding citizens they have cared for and raised and who work diligently each day, not asking or expecting anything in return. Perhaps it is time that the rank and file of the society finds a way to engage the more successful women who have been selected for praise and admiration and use their experience to help raise the standard of others. Women, who have fallen through the cracks in society, need special assistance so they can better raise a brighter future.
This reminds me that women who have successfully cared for their families and raised well adjusted children need no recognition from anyone, especially from those who are often engaged in boring, selfish, divisive games.
There was a time mothers cared more for boys because the male gender was considered more useful in building a material foundation. Men fish, hunt and build homes, so that belief still holds sway in some countries and cultures. It may be instructive to note that at the dawn of political independence for Ghana, Kenya and Tanzania among others, women played a central and significant role in supporting independence movements through strong unwavering support for their chosen national leaders. Later, education (imposed from without), religion and culture slowed the growth and development of women in some of these independent African countries, as they once did in the Caribbean.
The emergence of women in leadership positions in many African and Caribbean countries today confirms the determination of women to beak the barriers set by men and the old colonialists. The progress women have made under various trying situations is there for all to see.
I recall attending a function in Soufriere many years ago in which the Governor General Sir Stanislaus James honoured certain persons of that town. One was a retired school teacher, Mrs. Mathurin. After the many tributes paid her, she replied simply: 'If men say that I have done an excellent job, who am I to dispute them.' She was obviously refereeing to the others who had complimented her. That line captured for me, the whole essence of the role of women on this island many who continue to work without recognition sometimes, even from their own families.
That explains why some persons see the belatedly desperate attempt and excessive coverage of deserving women as being too lately fashionable, celebrating women. The genuine focus has to be on lifting women from poor living environments and helping them raise the next generation of worthy citizens and Nobel Laureates.