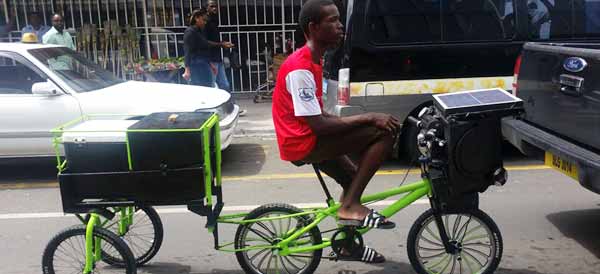 I'VE been quietly observing a pair of twins who have come up with an awesomely creative and inspiring way of earning a living and whilst they have given me hope, it has also raised questions in my head about the number of unemployed in St. Lucia.
Upon approaching one of the twins, Alan Edward (his brother's name is Al) earlier this week to speak to him about their ingenious business venture, I was left with no doubt that these guys will go far…just watch this space!
The 20 year olds from Desruisseaux, Micoud (they will be 21 Tuesday so feel free to say Happy birthday or even to patronise them), with their humble yet assertive personality, came up with their own concept and went on to design and create their vehicles together.
Today, you can enjoy some freshly baked cakes and pastries from one twin and some on the spot, freshly made barbecue chicken wings, sausages and kidneys all thrown down with some fresh juice and some banging tunes to boot.
Yes, all what I mentioned, comes from two bicycles decked out with coolers carrying food and drinks, a BBQ grill and the piece de résistance, solar panelled music boxes that play loud and clear music so that you can hear the brothers coming from a distance.
I didn't know who they were when I first saw them. All I know is that I am proud of them for coming up with this concept and I truly hope that they could expand and become very successful.
These brothers are not the only ones making me smile with their creativity. You don't think that I would write about creative forms of employment and not mention the "Glo Coco" guy who asks us to "rinse your hearts' (in kwéyól) with fresh coconut water and the "TANMADOZ…TANMADOZ…tanmadoz, tanmadoz, tanmadoz, tanmadoz" man who sells tomatoes from a crate carried on his head.
These guys, through their simple but creative tactics, have gathered strong clienteles and they are just to name a few.
They, along with a massive number of people have decided to get off their…thumbs and create employment for themselves.
Now ideally, we should be living with an economy that would be so successful that the batches of students leaving school each year shouldn't have to dread those final years of their schooling because they can get jobs easily.
Ideally, someone who has worked hard and excelled during all their years at school should not have to look at the possibility of selling out of a water cart in order to make a living.
Ideally, people should be able to get jobs because of their qualifications and expertise, even experience and level of training as opposed to getting a job because of internal links and who you know.
Ideally, our unemployment figures should be much lower and you know what, I could go on and on about ideal scenarios but whilst you, my readers know that I am not one to stand for the acceptance of mediocrity, and that I refuse to tolerate shortcomings and inadequacy especially when I know it can be rectified, I will not advise people to sit around sulking and doing nothing in the process.
Now whilst I understand that walking around selling icicles might be a strict no no for some, surely there are other avenues that could be explored that could sustain you whilst you step up in the employment sector towards finding a good job that you like.
There really is no excuse…not even disability because I'm sure the likes of banker JulinnaFlorent who is bound to a wheelchair but still makes a decent living at Scotia Bank on the William Peter Boulevard and the Executive Director of the St. Lucia Blind Welfare Association, Anthony Avril who just happens to be blind (as well as a few staff members) will tell you that their disability has not stopped them from excelling in life.
So let's go back to the twins who have created something out of the simple bicycle and are now creating tidal waves…look at them and tell me why other sound minded and able bodied individuals cannot pick themselves from the living room couch or the block steps and go make that paper…legally of course.
I know that money or lack thereof can be a bit of a speed bump but I'm certain that a number of rising micro business owners will quote the line of a Drake song for you: "Started from the bottom now we here" as in so many cases, it takes little to almost no money at all.
Come on people, yes our unemployment situation is in dire need of fixing and attention, but in the meantime between time, find something legal to do to pass the time and also to take care of yourself financially.
Cry not for the small figures trickling in but remember, half a loaf is better than no loaf at all.