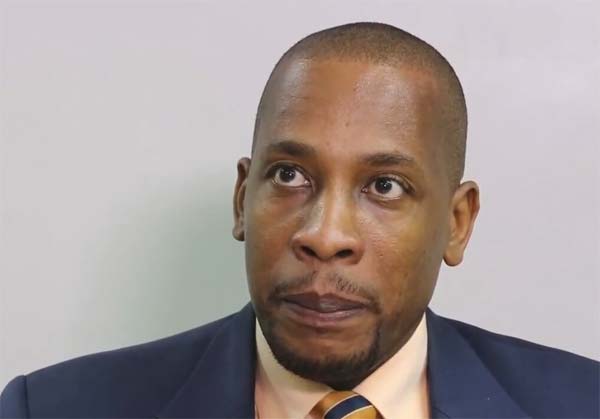 THE Eastern Caribbean Central Bank (ECCB) which was established in 1983 is now under the guidance of a new Governor who assumed duties on the first of this month.
Timothy Antoine, a national of Grenada is the third Governor of the bank. He was recently introduced to the bank's staff and journalists of the eight countries making up the Eastern Caribbean Currency Union by Victor Banks, Chairman of the bank's Monetary Council and Chief Minister of Anguilla.
Antoine, who promised to interact with the respective governments of the Organization of Eastern Caribbean States (OECS), by way of advancing what he called "trusted advice" to them is an economist and development practitioner by training, expression and passion, according to Banks.
One of four multi-state central banks in the world, the ECCB over the years has played a key role in developing a strong banking sector in the ECCU by delivering comprehensive oversight of the area's financial system.
In fact Antoine said that that role will continue, even stronger to be backed by the bank providing thoughtful leadership and influential policy advice to member countries of the OECS.
"At the moment our financial system is stable and improving but we want it strong and resilient able to withstand shocks," Antoine told journalists.
He recognizes that corporate governance is critical to achieving the bank's mandate, and maintaining its credibility and image as a model regional and international institution.
Before taking up the position of Governor, Antoine served as Director for Grenada on the ECCB Board of Directors for 2002 to October 2005 and January 2008 to January 2016. His 22 year tenure with the Government of Grenada was spent in the Ministry of Finance where he began as a planning officer in 1993 moving up the ranks to Senior Economist before being appointed Permanent secretary serving in the position for the periods August 1999 to October 2005 and January 2008 to January 2016.
He has since affirmed his commitment and that of his staff to serving the people of the currency union, an affirmation that will see the bank taking the lead in pursuing structural transformation across the sub-region.
"I recognize that the bank has worked hard, done a lot of good work. And I have recognized that the times require us to do more and to rise to the challenges of the day," Antoine said.
The holder of an M.Sc Degree in Social Policy and Planning in Development Countries from the London School of Economics and a B.Sc Degree in Economics with management from the University of the West Indies, Antoine promised more talks and discussions with journalists during his tenure as Governor.
He said that he was committed to improving relations with the media.
"You are here because I believe you are a very important partner. I am reaching out to you today and signalling to you that we want to work with you very closely," he said.
Among his plans are what he called "sporadic" media engagements and briefings on various issues. He also spoke on the creation of a weekly podcast called "Inside the ECCB" which will be all about opening up the bank to the people of the sub-region.
"I think it is very important, not only that we be transparent, but if we are going to build support for our initiatives, people have to understand our role," he said.
Dr Antoine says he is committed to holding workshops for media workers in the sub-region.
Antoine does not see himself serving as Governor as long as his predecessor, Sir Dwight Venner who served from 1989, a span of 26 years.
"I have a five year term and that's what I'm focused on," Antoine said, adding that the vision he has for the bank is probably going to take more than five years and that he does not anticipate any scenario whereby he will remain as long as Venner.