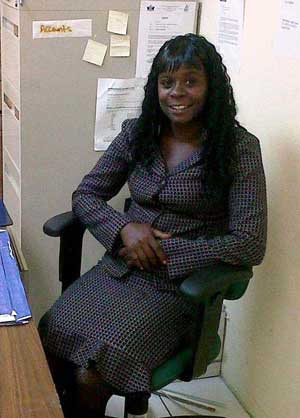 A 32 year old woman who THE VOICE featured last November making an impassioned promise to change her life around after a tumultuous past is behind bars and likely to be charged with murder.
Police picked up Melissa Joseph in the course of investigating the circumstances surrounding the death of 45 year old, Joseph Herman of Capitol Hill, Castries.
Herman was admitted to the Victoria Hospital on Thursday, after sustaining multiple stab wounds to the body during an altercation on Jeremie Street.
They say Herman succumbed to his injuries the following day becoming the first homicide for the new year.
Police yesterday did not admit having Joseph in custody. A statement simply said that an individual was in custody assisting with investigations.
But reports point to Joseph as the person being held because of a running dispute she had had with the dead man.
Joseph was featured in the Thursday column A FACE IN THE CROWD by Rochelle Gonzales in November. On that occasion, the unemployed mother of five expressed an interest in changing her life around days after she was brutally slashed by an attacker. She spoke about her turbulent past that included sexual abuse, drugs and alcohol.
"Joseph's arms and face tell the tales of war and strife as she bears numerous and glaringly obvious scars from violent altercations….", Gonzales wrote then.
Joseph was quoted as saying: "I have children and I don't want to have that kind of life…I want to get out of it. This life is not a life for me so I'm asking whichever authority and anyone in a position to give me the benefit of the doubt. Please, I deserve one more chance…everybody deserves one more chance because look, right now I have a laceration to my right and I don't deserve these things".
About her most recent injury that started from her back and travelled up to the midway point of her right ribcage, Joseph said then: " I went up to Gros Islet on Friday for a drink which is my regular routine. Now in the past, I've robbed tourists as a form of survival to feed my daughter and I've gone to Bordelais for it. Now alcohol does not go too well with me because I turn to an instant psychopath so I will admit that I was under the influence of alcohol and I spilled a guy's drink. When that happened, the man saw nothing to do but to punch me on my face. Now me being under the influence, we got into a fight and during that fight, his gang joined and brutalised me. They treated me like a stray dog by beating and kicking me until one retrieved a knife and stabbed me. I didn't deserve that. He could have asked me to buy his drink back or something…it was just a drink but as a result of spilling a drink, I almost lost my life".