Young Businessman Honours Laureates.
SHANE Larcher is well-known for his swag. But he's also known as a businessman who capitalizes on his creative talents. Since forming his company, Create Your Own Lifestyle, in 2011, the 33-year-old La Clery, Castries resident has literally earned his pay by putting his shirts on our backs.
Ever since he created his first set of tee shirts for Independence celebrations five years ago under his sub-brand, "I Am Lucian", Larcher has continued to churn out theme after creative theme. That first batch of tees did well on the local market despite some initial challenges. However, he admitted that he was able to learn from the challenges that presented themselves with him being a budding entrepreneur.
Larcher has since been printing tee shirts with an Independence theme and his market has continued to grow. The company, too, has grown in popularity but he believes he still has a long way to go as far as taking on newer, fresher ideas and turning them into business sense and dollars.
After receiving a call from Drenia Frederick from the Cultural Development Foundation (CDF) last October, Larcher became interested in taking on the challenge of creating special tee shirts to honour the island's two Nobel Prize-winners, Sir Arthur Lewis (Economics, 1979) and Derek Walcott (Literature, 1992).
Like many Saint Lucians, Larcher said he was not enthusiastic about Nobel Laureate Week over the years. But he hopes that the current edition of his tee shirts can effect change and become symbols that make people recognize the excellence achieved by the island's two Nobel Prize-winners. The challenge is about to pay off.
The tee shirts are now available in blue, yellow, black and white – the colours of the Saint Lucian flag – and come in sizes ranging from small to XXL. Tees for adults cost $30 each and $25 for children.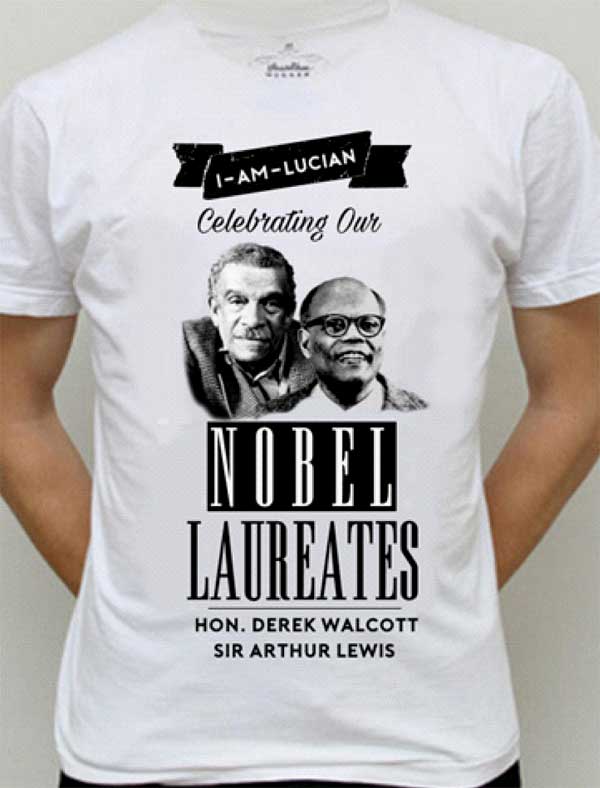 As a young entrepreneur, Larcher said it's difficult to break out and create the impact one wants. However, he refuses to give up, especially since he's been through the ups and downs and remains standing.
"You have to look at all the work that you've put in and weigh whether giving up everything you've worked hard for would make you happy," the young businessman said.
While Larcher creates the designs for each concept himself, he purchases the locally-made tee shirts on which they are printed. He told me that he doesn't create the themes for his tee shirts based on events per se but instead creates apparel based on a lifestyle.
"If something good comes to mind, I go with it," Larcher, popularly known as Swagga Shane, said. "The Nobel Laureate Week tee is new to me, so I decided to pursue it. So that would be another achievement for me. But there are infinite choices of designs from which I can choose."
Larcher has high hopes for his brand and wants it to become one with which people are empowered to be themselves. For this year's Nobel Friday (January 22), he wants Saint Lucians to wear his newly-minted tees to show their collective pride for the island's two outstanding geniuses who share the same birthday, January 23.
For now, Larcher is specializing in tee shirts. But he does have plans to branch out into caps and other merchandise. He's even eyeing the events market as one to explore. This year, he tells me, holds many possibilities for both him and his business as he continues to redefine the trendy tees market.
"I dubbed this year 'The year of the lifestyle'. What I mean by that is that I'm going after everything I think I deserve. I plan to make this year the one in which I overcome all fears, barriers and hesitations," Larcher said.
Check out Larcher's tees at his Facebook page, Create Your Own Lifestyle or call him at 715 – 4116. You can also send an email to nobelfriday@gmail.com.