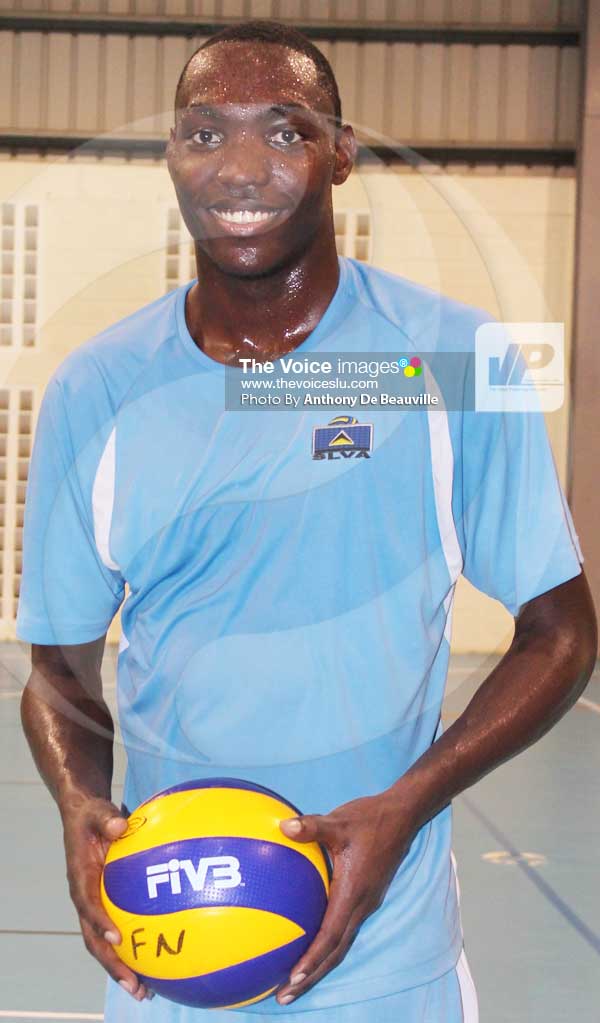 St.  Lucia's Top Male Volleyball Player Julian Bissette finished the first half of the Greek First Division Season leading in blocking and attacking efficiency.
Bissette, a graduate of St. Mary's College and 2015 Senior "Volleyball Player of the year" is enjoying a stellar Sophomore Season in Greece.
As a rookie playing for Ment which had just got in the First Division Bissette finished in fourth place in Blocking and was in the top ten in Attacking Efficiency, yet Ment were not able to remain in the top tier. Bissette was aggressively recruited by Kifisias who now sit on top the League with 9 wins and 2 losses and 27 points.
Bissette enjoys an Attack/Kill percent of 58.21% while the next best player is at 55.24%. In blocking Bissette leads the Greek First Division with a set average of .95% per set with a total of 41 blocks in his eleven matches for the year.
Bissette stands at a relatively short 1.99 metres and plays middle, but his jumping and athletic ability are phenomenal. The soon to be 25 year old St. Lucian generally plays opposite for St. Lucia, but has adapted well to be extremely effective in the middle position usually reserved for the much taller players.
Before moving to Greece, Bissette played for National Male Volleyball Champions, Jetsetters Volleyball Club, under the stewardship of Kendal Gauche Charlery, National Team Coach. His development was catalyzed initially by Coach Roberto Garcia of Cuba, who worked in St. Lucia as a volleyball expert between 2008 and 2010. He was further helped and pushed to a higher level when he worked with another Cuban expert employed with the Ministry of Youth Development and Sports, Luiz Oviedo an Olympic medalist in his own right.
In 2012 Biscette's game took off when he started playing Beach Volleyball seriously and benefitted from the Association's aggressive Beach Volleyball development programme which was supported by NORCECA which and Brazilian Coach Joao Moraes de Campos, Coach Café exerting a major influence on his physical and technical development.
Biscette started to excel in both formats of the sport, volleyball and beach volleyball and became one of the twin peaks of the Male National Team in both formats. Along with Joseph Clercent they quickly improved St. Lucia's ranking in both formats. Biscette still harbours the dream of qualifying for the 2016 Rio Olympics in Beach Volleyball with Clercent. But for now he is prepared to face his task of winning the Greek First Division title with his Club and establishing himself as a world class professional player in Europe.