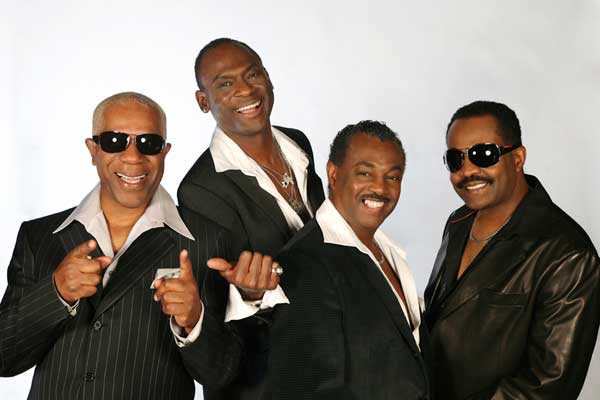 Two-time Grammy Award-winning band, Kool&The Gang, will perform at Main Stage Sunday at Pigeon Island National Landmark for the silver anniversary of the Saint Lucia Jazz & Arts Festival which will run from April 29 to May 8.
They will share the stage that day with Air Supply, George Benson and Ronald "Boo" Hinkson.
The announcement came Tuesday evening when the Saint Lucia Tourist Board (SLTB) held the media launch for this year's festival at Johnsons Centre in Rodney Bay.
The artiste line-up for Main Stage Friday (May 6) includes Teddyson John, Shaggy and Omi. For Main Stage Saturday, patrons will see and hear BWB featuring Norman Brown, Rick Braun and Kirk William, Irvin "Ace" Loctar and Kassav.
The Jazz Showcase, which will be held at the National Cultural Centre on Thursday, May 5, will feature Donald Harrison, Jr. and 12-year-old pianist, Joey Alexander, who has been nominated for two Grammy Awards this year, namely Best Improvised Jazz Solo and Best Jazz Instrumental Album.
Other key events on the festival's calendar include Arts Night (Theatre) featuring Britain-based Saint Lucian actor, Joseph Marcell, who will recite lines from Nobel Prize-winner Derek Walcott's epic poem, "Omeros" (May 3, National Cultural Centre), the Hot Couture Fashion Show (May 4, Johnsons Centre), and a dinner set at Windjammer Landing featuring Chris Standring (May 6).
Tributes will be paid to late iconic Saint Lucian dancer, Virginia Alexander, via dance in this year's Cultural Icon Series that will feature MicoleAubertin and Tania Isaac (May 1, National Cultural Centre). The spoken word set, Blue Session – Word in Altered Scale, will sound off on May 2 while the visual arts exhibition will run from May 3-10.
No line-up was named for the official opening of the festival slated for April 29 at Mindoo Phillip Park. Moreover, organizers say that other artistes will be added to the festival lineup in the next few weeks.
Meanwhile, Minister for Tourism and the Creative Industries, Lorne Theophilus, says the festival lineup gives patrons a wide range of choices across musical genres.
"What we sought to do was to give it a certain amount of depth so that we could touch into the most discerning tastes," Theophilus said at Tuesday's media launch. "So those who like contemporary jazz can have (it). The traditional jazz lovers can have a taste of that: all of the various genres of music that have brought us up to this point. But there's still more to come. That's the most important thing."
Theophilus added: "As with everything else, when you are in the process of booking a lineup, there are certain things that we have to adhere to. But we have some amazing surprises."
Theophilus said the increased number of local acts in the music festival over its past 25 years speaks to the event's ability to providing a major platform for Saint Lucians involved in the arts. He told The VOICE that the addition of theatre to the festival this year further highlights the work of poet/playwright, Derek Walcott.
Since the festival lineup was announced, social media has been awash with criticisms about the choice of artistes this year. While some of the performers have performed at the festival previously, many online bloggers have registered their disappointment with this year's selection.
However, organizers say that operating within a limited budget limits the options, thereby having to forego many artistes patrons clamour for. Nevertheless, they say they try their best to put on a great festival with less finances.
"I think our biggest challenge has always been trying to satisfy that varied appetite from the public: how do we manage the expectations within the limitations of the budget," Director of Tourism, Louis Lewis, said.
With the opening of this year's Saint Lucia Jazz & Arts Festival just three and a half months away, a lot can happen. This is certainly not the first year that festival patrons have registered their discontent with the lineup albeit last year's lineup received impressive feedback.
But for a milestone that organizers said they have been putting plans in place for some years now, fans just might get their deserved surprises and more music that they bargained for.
SLTB's Public Relations Manager, John Emmanuel, says that over its 24-year run, the festival has become one of the world's best music festivals. During that time, it has racked up the following statistics: clocked over 310 hours of music, featured 930 artistes who have played a total of 10, 888 songs and attracted around 100,000 visitors who came to Saint Lucia specifically for the annual festival.