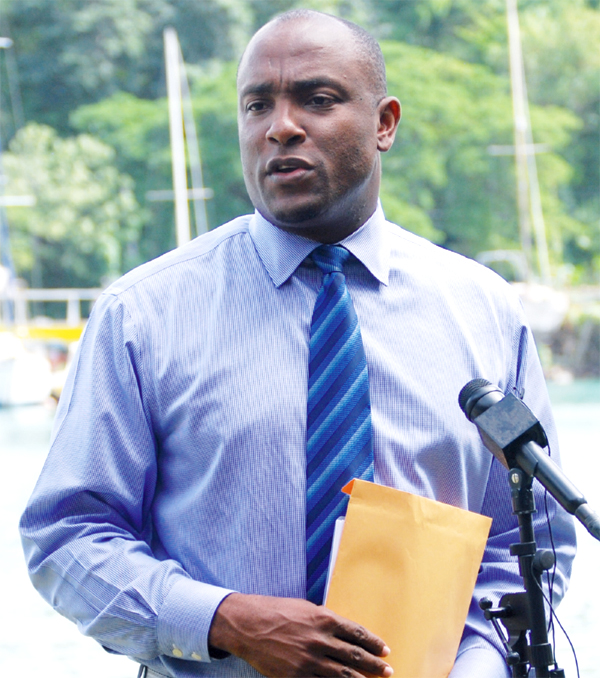 Sports Minister Shawn Edward has sounded a warning to sports administrators: if you do not have the time to give to the sport, make way for others who do.
Edward was addressing members of the St. Lucia Olympic Committee and executive members of a number of national sports federations present under the SLOC banner who  gathered at the Coal Pot Restaurant in Vigie for their annual luncheon.
The Minister also profited the opportunity to say a special thank you to those who had worked with the Ministry of Youth Development and Sports in the execution of its mandate throughout last year.
Edward said: "I want to echo some of the sentiments expressed by the president of the Olympic Committee when she said it had been a very successful period, the period under review.  And this is a success that we in the government share.  We have made a point that St. Lucia's sporting successes are not owed only to the Ministry of Youth Development and Sports or the government, but we must also and always recognize the contributions of the stakeholders. And one of the biggest stakeholders in this country is the St. Lucia Olympic Committee".
He continued: "We work very closely with the different federations and as I said the successes that we reap, we owe a lot of that  to your efforts.  There are some federations that are excellently run; they are very diligent in the manner in which they go about their business.  And there are others who really have to wake up; people need to understand that when we take up responsibilities on national federations it's a very, very serious undertaking. If you do not have sufficient time to execute in conformity with the standards that have been set before, then make way for other people. But by and large, generally speaking, I am extremely pleased with the effort".
Edward said he was almost tempted to single out federations for special mention, but added: "I don't think it's something wise to do, except to say, the fact that you come forward and are willing to serve voluntarily, that in itself is a massive statement of commitment and intent as far as the development of your country is concerned".
The minister noted that this may be his final year presiding over the matters of Youth Development and Sports, as the government's five year term runs out. He said: "I think at the end of this time period, anybody who looks back objectively will admit we were able to achieve much. Having said that, I am not saying by any stretch of the imagination, that we are where we ought to be. It is still work in progress; we have to continue this stride for even greater results than what we have achieved so far.  I believe sports in St. Lucia, the different disciplines, are in good hands. And if we continue to work collaboratively, if we continue to subscribe to the standards that the government sets, we will all accomplish together. No one person in St. Lucia is bigger than the sports fraternity or the respective disciplines that they serve. We have seen results; we have seen examples that when people collaborate a lot more is achieved".