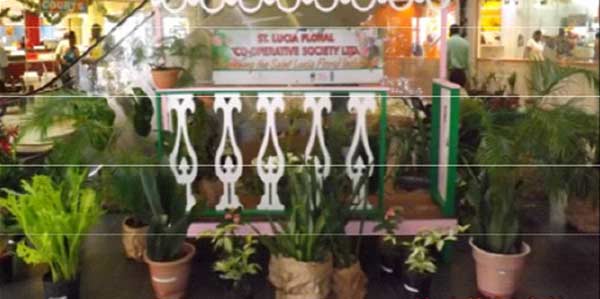 BLUE Coral was alive during Christmas and the New Year Season with a "Greening" Exposition by the Saint Lucia Floral Co-operative Society Ltd.
The seasonal highlight of the exposition was the use of "Ti BomBlan"(Croton Micans) trees as affordable Christmas trees and as an option to the imported synthetic type. Also, for a few years the traditional pine tree has been scarce as the result of a malady that has affected them. This concept showed how one can creatively use what is readily available.
The Society said the public was so amazed at the effect of the lights on the bare branches of the trees that some people were willing to purchase the defoliated trees. "Ti BomBlan"(Croton Micans) is essentially a shrub which predominantly grows in the drier areas of Saint Lucia.
The Exposition ran from December 14 to January 6, and the Floral Co-operative welcomed the opportunity to partner with Blue Coral to expose the public to the initiative of 'Greening the Saint Lucia Floral Industry' as well as the "greening" concept.
The plants and flowers on show thrive on 'green' products, so in an endeavour to assist with the concept some visitors were introduced to two locally manufactured plant inputs. Samples of the products, AGRO BOOST and ALGAS were given to patrons for testing on their plants at home.
Another feature of the event was highlighting the benefits of house plants in cleaning the air in the home or office. Some of the plants identified by research conducted by NASA, were exhibited and it was noted that many of them are readily available locally.
Although the general public had the opportunity of purchasing available plants, the free service of having their orchid plants repotted was appreciated by the owners.
The Society said the success of the event would not have been possible without the collaboration of Blue Coral, the support of a grant from the local GEF Office (GEF/SGP/UNDP) and bags made from hessian supplied by "MEME BETE." The principal logo on the bags of "1.5 TO STAY ALIVE" depicted the successful campaign of the Caribbean at the recent Climate Change Conference in Paris, to limit global warming to 1.5 degrees.