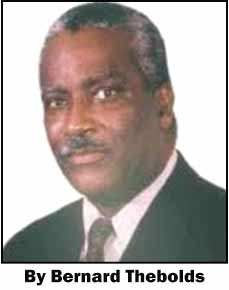 IT seems everyone is looking forward expectantly to 2016 when general elections are due; party supporters from both sides look to either having the incumbent returned to office or turfed out. But how many of us have a clear idea of what is needed from any government to re-vitalize our moribund economy and bring back the halcyon days of green gold.
To be sure, bananas will never again dominate the economies of the Windward Islands as it once did; simply, times have moved on. There is one caveat to this which I shall not mention for now. One can however still look out for good government and here are my suggestions and wishes for any new elected team that will determine our lives for the next five years.
During the US presidential campaign in 1992 the now famous remark was coined to focus and direct the energies of Clinton's teams "It's the ECONOMY, stupid". My variation of this is "It's JOBS, JOBS, JOBS". To this end any new government must reserve the allocation of incentives to enterprises that can create WEALTH, not simply edifices, which in themselves have no intrinsic value; for proof of this just go to Cap Estate or Praslin and see the rotting structures that litter the landscape. And intrinsically included in the concept of wealth creation is the concept of job creation. Give tax breaks and incentives to those who employ people. Agriculture and agricultural processing MUST be at the heart of any rejuvenation of the economy, and I don't mean planting dasheen; and we already have the perfect collaborator in our midst, our Taiwanese friends.
Governments must cease the silly thinking that they can rejuvenate the economy by building luxury air-conditioned offices for themselves and public servants, like the useless edifice at Pointe Seraphine, and instead concentrate on low income housing, before we are all engulfed by the ghetto mentality that is sweeping across the country. The added benefit, proven everywhere, is that decent housing for the poor (subsidized of course) is the fastest and easiest way to address crime (and unemployment). The Castries basin is awash with opportunities with places like Four a Chaux, Morne du Don, The Graveyard, Chaussee Road and Marchand, all ready and dying for re-development, commercial and residential. All it needs is a boldness and partners, of course. This is what created Sans Soucis, Entrepot, Reduit Orchard and Reduit Park for the middle class.
Governments the world over are strapped for cash and it must be a recurring nightmare for every Minister of Finance as to how to allocate the scarce resources available when all around us are vulgar displays of wealth and consumption unencumbered by any obligation to the State and society. It must be the height of madness for any government to permit the almost free-for-all ownership of vehicles as currently exists, and when the reality of congested and dysfunctional streets hits home, think that building more roads is the answer. Simply, ownership, parking, and care of vehicles should be high revenue sources for any government with the secure commitment that the nation's roads, everywhere, will always be adequately maintained. Roads are expensive and someone has to pay. The mantra must be, "if you cannot afford the cost of keeping a vehicle, then do not buy one or do not expect cheap gas". All forward looking small states like we are (Bermuda, Singapore, Hong Kong, Taiwan…) have this as State policy. Obviously this must also be accompanied by a firm and clear policy on public transport. And no point re-inventing the wheel again; we just need to look at what others have successfully done.
Traditionally, the State has been the exclusive investor in development with almost zero return to tax-payers. Rodney Bay made millions for many, none of whom invested anything in its concept, while the original developers and the State lost heavily. A new government must move urgently to introduce a capital gains tax, particularly on property. The corollary to this is a simplified and sensible property tax policy. If some endowed person wishes to erect his dream home, no matter the cost, why penalize him? Government should be taxing land, not homes, a concept that will eliminate fraud and the useless arguments that go with valuing homes. Commercial properties are, obviously, a different matter. Governments need plans and ideas for development and thinking up elaborate proposals without firm ideas for partnerships and financing is as useless as not having plans in the first place. Just look at the wasted industrial factories erected by a generous Chinese government at Hewanorra, with no government idea as to what to do for follow-up. In particular, we need a plan for Vieux Fort, blessed with excellent air and seaport facilities but little idea as to where to go, before it's too late. Such a plan, (for Rodney Bay and Gros Islet too, both heading for the dump-heap) prepared by competent international consultants must include the likely partners who will be integral to it. And I repeat, again, my mantra: get rid of the useless NDC or Invest St. Lucia or whatever you call it and seek to promote an export philosophy, instead of trying to make the new buzzword "FDI" the answer; and frankly, all we have to sell to a foreign investor is our land, certainly not a good idea.
The State everywhere is the dominant factor in citizens' lives and consequently the State must know intimately everything about us. To this end every birth, death, marriage, etc should be recorded in the NIC database, the start of a comprehensive tracking and management system for citizens of the nation. This is grade school stuff.
Here now, come the hard parts. Government must remain the employer of last resort and there is no point in thinking that a bunch of transient politicians can ever totally manage the modern economy. Government is simply the enabler. Government must privatize, again, GOVERNMENT MUST PRIVATIZE. This is the only way to develop a creative society and help the thousands of young school-leavers find gainful and rewarding occupation. We made a huge blunder in not involving the citizenry in the sharing of the telecommunications windfall so let's not make the same mistake again. I won't go into privatization details here save to say that any new Cabinet should include a Minister for Privatization and set him or her free to earn the title. Of course, public servants will protest.
And just what is the role of our City and Town Councils? Assemblies of prominent citizens confined to looking after markets or cemeteries or street blockos? Ridiculous! All such facilities should be privatized and the entire concept of Local Councils re-defined. Major bus terminals should be located outside city limits with a subsidized and scheduled public (Government or Council) service into the city centre, say a 40-seater ferry into the city every 5 minutes or so at peak, leaving the city free for public access for business or just shopping (sidewalk cafes?). And is there any need for every civil servant to be accommodated inside the city limits? The visitor to Castries must also wonder in amazement why anyone would be allowed to leave his or her informal vending paraphernalia on the side-walks of our capital after hours. I would venture that not even the Council has the authority to grant such approval. After all, sidewalks the world over are public footpaths
The above is only a small consideration for the thinking man…there will be more. And thank you Soufriere, for removing that silly advertising sign at the entrance gates to your splendid little town.