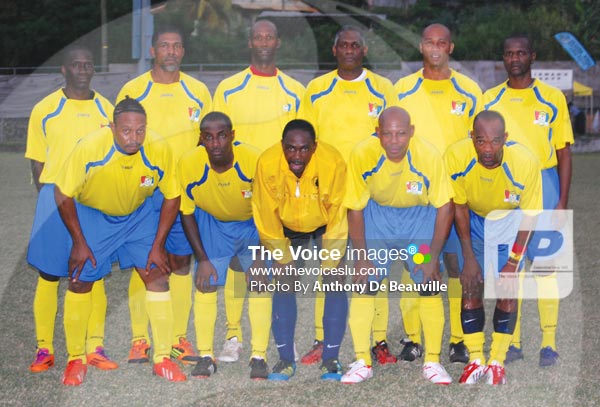 CLASH of the Titans. There is no better way to describe this weekend's Veterans Football Championship quarter final match scheduled for the Soufriere Mini Stadium.
The card will draw hundreds of football fans to the venue to lend support to the home team that will do battle this evening.
The gates will be open from 5.00 p.m.; but the showpiece on the square will kick off from 6.00 when Vieux Fort South play Congorians.
The atmosphere is expected to raise a few notches from 8:00 p.m. when defending champions Caricom Masters plays host Soufriere in a repeat of last year's final.
This encounter is the key one in this weekend's card as Caricom Masters of Castries emerged champions at the same venue last year. What makes it even more interesting is that they triumphed in sudden death 6 – 5 on penalties after the match had ended 1-1 in regulation and extra time.
Prolific striker Jerome Serville put Soufriere ahead in the encounter in the 37th minute with a well struck right booter past Abraham Mentor in the Caricom Masters goal.
Caricom Masters kept their composure despite being 1 – 0 down for most of the encounter and got a controversial equalizer from Kirton Collymore in the 54th minute who headed home past Soufriere goal keeper Osbert Serville. However, the Soufriere team protested that the ball had not actually entered the goal by legal means, but through a hole in the side netting. Despite their protests the goal was allowed by Referee Timothy Joseph.
So it's game on tonight.
The action resumes on Sunday, from 5:00 p.m. Central Vieux Fort play Gros Islet Veterans, while at 7:00 p.m. Anse la Raye comes up against VSADC.