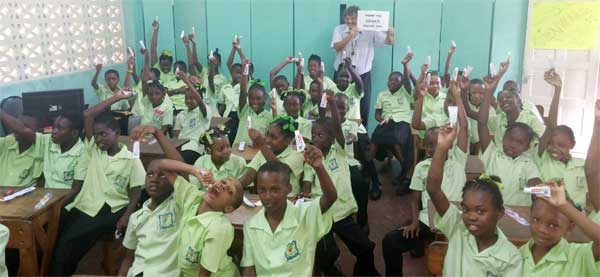 SANDALS returning guests Neil and Sheila Stephen have successfully completed another dental hygiene programme targeting children between the ages of 5 and 11-years old in Saint Lucia.
The programme, which focuses on teeth brushing and mouth washing techniques, reached almost 300 children across six schools in the North and South of the island. The schools covered include the Balata Government School, the Marchand Combined School, the Gros Islet Infant School, the Anse la Raye Infant and Primary Schools and the Roseau Infant School.
This is the third year the couple has extended such a programme to Saint Lucia, affecting increasing numbers of children each year.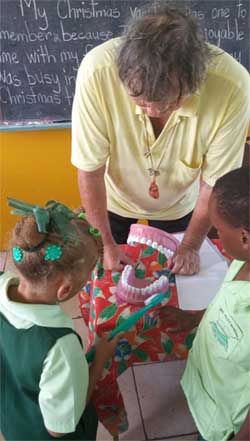 Neil Stephen, a practicing dentist in the United Kingdom, said the initiative is one that is likely to expand with key donors like Colgate, Wright Dental, Tepe and Dental Directory maintaining their support with the supply of dental supplies and props for use and distribution to the island's children.
"We are extremely happy to be able to do this every year and include it as part of our vacation experience here in Saint Lucia. The people of this island are wonderful and that is what makes our time here each year worthwhile," Stephen said.
The initiative complements the recently introduced Sandals Foundation Great Shape Dental Outreach Programme to Saint Lucia. This partnership brings to the island a large-scale dental operation with the skills of top dental practitioners from the U.S. and Canada, volunteering their services for a two-week period. This programme has been extended for a second year.
Director of Programmes for the Sandals Foundation Heidi Clarke has commended the continued support of Neil and Sheila Stephen, labelling them true friends of the Foundation and indeed the children of Saint Lucia.
"We are always honoured to work with Neil and Sheila. Their commitment to what they do is heartwarming and encouraging for us. We cannot thank them enough," Clarke said.