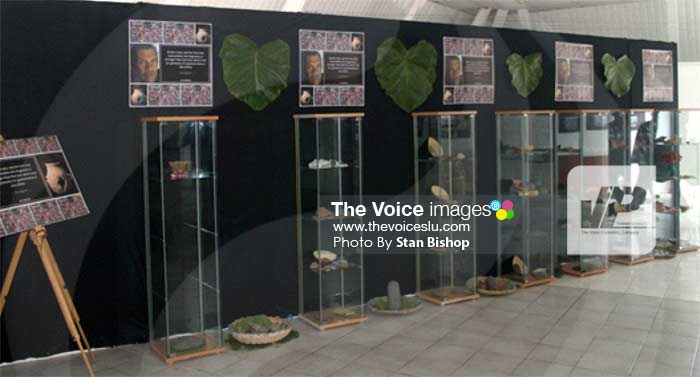 AN archaeological exhibition opened at the Alliance Francaise de Sainte-Lucie at Pointe Seraphine last Thursday evening with its main aim being to sensitize Saint Lucians about the island's rich and varied past.
The exhibition is being held under the theme, "Reassembling Saint Lucia's Archaeological Fragments", and is expected to run for a month and will be open to the public daily at no cost.
Laurent Jean Pierre has been the Saint Lucia Archaeological and Historical Society's Historical Secretary for a year now. He explained that since Saint Lucia is yet to have its own national museum, many artifacts are endangered — both by natural and human forces.
Jean Pierre said many of the priceless artifacts have been taken away by the sea and natural disasters in some cases. But he also blamed the loss of these items on the pursuit of unplanned development, among other factors.
"We've done a few digs but not enough," Jean Pierre said. "So the development that is happening before the natural environment is really studied results in the loss of part of our history. There are also people who have artifacts at their homes which belong to the nation. So we need a national museum where we can house these artifacts."
The exhibition, Jean Pierre indicated, is the brainchild of a coalition of the willing, a few Saint Lucians who have said enough is enough and have staged the exhibition to raise awareness as a move towards a national museum.
The artifacts on display were provided by a group called PEYI (People Engaging in Your Interest), Saint Lucia National Archives, Saint Lucia Archaeological and Historical Society and Alliance Francaise de Sainte-Lucie in collaboration with private collectors.
The display includes publications, photographs, stones, shells and ceramics; the latter three sets of items dating back to Saint Lucia's pre-Columbian era. Saint Lucians, Jean Pierre says, need to know about their past and the exhibition is one step closer to filling that void.
"We want to educate people about our history," Jean Pierre said. "We're hoping this exhibition lasts until after Independence Day and that we can take it to other parts of the island. However, our problem has been sourcing the funding to do that."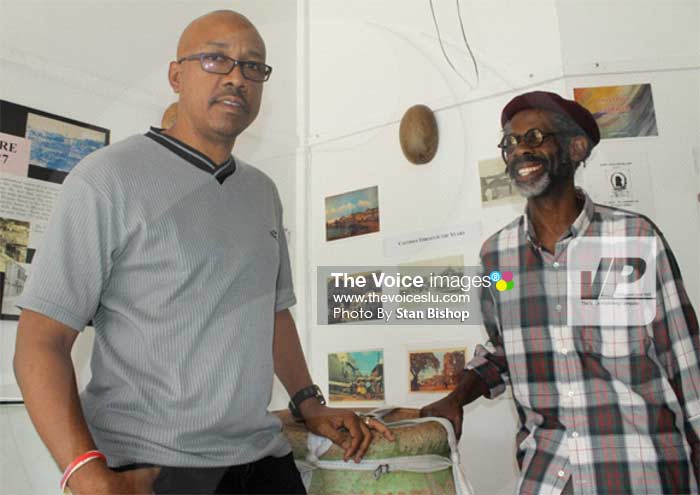 The exhibition also features a conspicuous display of poet Derek Walcott's quote that goes: "Break a vase, and the love that resembles the fragments is stronger than that love which took its symmetry for granted when it was whole." Jean Pierre said the quote is apt since the poet has "put together very nicely what obtains in our history and what's happening here."
Patrick Freeman, Preservation Officer at the St. Lucia National Archives (SLNA), said the main thrust of the SLNA is to preserve materials that have historic information. All of the publications at the Vigie-based organization were produced locally, either written by Saint Lucians or about Saint Lucia. The information, he said, forms the nucleus of what is hoped to evolve as the national library of Saint Lucia.
"We're trying to immortalize the history of Saint Lucia through pictures and other means," Freeman said. "Most people do not know much about the archives. So we're also letting people know what the National Archives does and how they can use our resources to promote history."
The St. Lucia National Archives has two main departments: one that deals with general research and another that facilitates genealogical/land research. There is no cost for conducting general research; however, a search fee is charged in the genealogical/land research department.
The National Archives has newspapers dating as far back as 1885, the same year The VOICE newspaper was established). Many of the materials are available on microfilm in the National Archives' push to preserve history indefinitely by digitizing records. However, paper-based records date as far back as 1807. Freeman said the task of piecing the island's history together remains a daunting task. Nevertheless, he said, Saint Lucians need to start to appreciate their history.
"We could have had older records but by virtue of the major Castries fires we had in 1927 and 1948, many of our records were destroyed," Freeman explained. "Fortunately for us, though, many of the records were done in duplicates, so we can still salvage some pride and get them from the British. But it would cost us a lot of money."