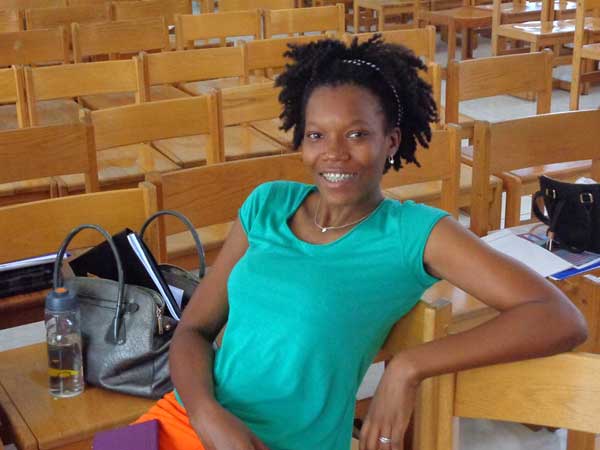 Our woman of the week, Monesha Broome tried her best to fight her life's calling as a Salvation Army Officer/Minister of the Gospel but she soon learnt that you can't cheat your fate especially when it's a calling from God.
Lieut. Broome said her calling came shortly after high school. The thought of becoming a Salvation Army officer stuck in her mind and although she tried to talk herself out of the idea, it just wouldn't go away until she just gave in.
She said: "I was thinking about becoming a nutritionist and I was on that path with my studies and out of nowhere I was sitting home one day thinking of the way forward and then something told me to become a sally army officer and I thought, 'No, you don't get money to be a sally army officer. My parents sent me to school, spent all that money and I'm going to throw all that away and become a sally army officer?' I continued on in sixth form looking at nutrition as my career path. I fought it and I fought it until I just ended up at the college for officer training and right now, I'm on my second appointment.
The 25 year old said first of all, she's a child of God but secondly, she's a server to those who need her help.
Lieut. Broome said she loves helping people hence the reason why she holds her current position. She said, "I love to serve others. I'm a lady of service and I help those who need my help and my motto is, I'm a friend to those who have no friends"
One could well imagine the pressures of overseeing such an organisation expectedly, Lieut. Broome said her life is just work and home and there is hardly a moment to relax especially since she is not a native of St. Lucia (she is Jamaican), and all her friends and family are far away.
A social life she said is non existent as she is dedicated to the work of the SA whether it be the church, the school or the social aspect. In fact, Lieut. Broome said the only down time she gets is when she goes home she gets to sleep, however, she is looking forward to Christmas day when she has no work to do.
The 25 year old said shortly after her first appointment, she was sent to St. Lucia which came as a shock because she was new to the field as a lieutenant and was now charged with the responsibility of overseeing the running of the SA's movement over an entire island.
It has been rough but she continues to press on and with the help of her husband, nothing is too much.
Something interesting that not too many people know, she is addicted to Pinterest: "I love discovering new crafts like things to sew etc. and it has to be easy. If it's too technical then I lose interest but if I'm interested then I pin it and hope that one day I will get to sew or create that thing. Right now, I'm very much into creating baby cloth diapers. I ordered all the material and I made one and it was so cute that I'm actually considering starting a cloth diaper business."