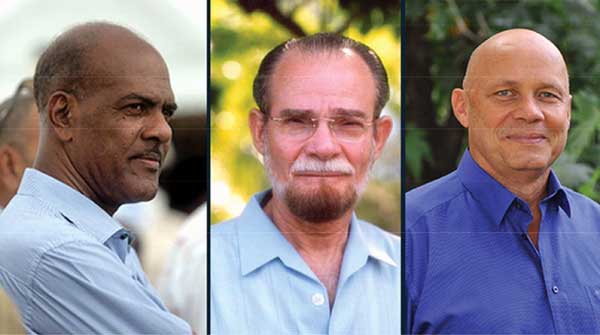 Within the last nine months, socialist governments have witnessed a  lack of confidence in their respective administrations resulting in Argentina, Brazil, Uruguay, Venezuela and on December 13, Martinique, all moving away from the status quo.
This all takes place as Cuba continues to serge forward in their association with the U.S where capitalism is moving forward by leaps and bounds. The details of the Martinique elections are significant, as the Lefti's Party headed by Serge Letchimy  of the French AssembleeNationale has been ousted by Yan Monplaisir and       Alfred Marie Jeanne to form an alliance in the run off last weekend
This puts to rest, a socialist regime which saw Martinique faltering while Guadeloupe moved forward with a different philosophy.  Letchimy who is a close friend of Dr. Kenny  Anthony appeared to have handled the economy in a similar fashion and the economic results resulted in a stagnant economy, business closures and unemployment which haunted the nation.
With total arrogance on the part of Letchimy, he has now refused to serve in the Martinique parliament with the opposition with  views similar to those  of Dr Anthony when he lost the 2006 General election.  Letchimy has branded Martiniquans as a bunch of deceitful persons.
Politicians need to understand that they are the servants of the people and once the conditions of their promises are not achieved, they must graciously exit or face the consequences of humiliation.  Letchimy like most practising partisan politicians took care of only his supporters and ignored the rest of the population not realising that both parties represent approximately 50% of the population and the 10% of independents are responsible for delivering the fatal blow.
In respect of Venezuela, Mr. Maduro will be facing some tough times as the opposition dig in to make significant changes including a revision of the constitution which Hugo Chavez introduced at the height of his popularity. A host of countries who benefitted from Venezuela's largesse may very well find themselves wanting as the new group of business congressmen take the necessary steps to stop the bleeding and faltering of the nation's economy.
(By. Michael Chastanet)