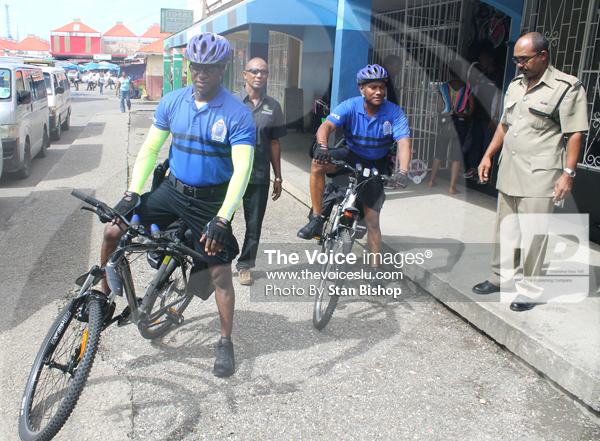 BEGINNING this Christmas season, expect to see police officers two-wheeling it through the city streets as they do their part to keep the citizenry safe. One catch, though: these new wheels don't use fuel.
As of Friday last, a three-month pilot project was launched that will see police officers on bicycle patrol in the city. The project is the brainchild of Pius Raveneau, proprietor of Universal Cycle Centre, who has teamed with The Royal Saint Lucia Police Force.
Guy Larcher, a representative from Universal Cycle Centre, said that with efficient policing playing a key role in crime-fighting, the police force needs all the assistance it can get, especially from the corporate sector.
Larcher said the donation of the two bicycles came after the police force appealed for assistance in that regard. While bicycle patrol units might be a relatively new initiative to Saint Lucia, they are common features around the world, especially in metropolitan cities.
Increased mobility and range of foot patrol officers, increased police presence to deter crime, physical exercise and no use of fuel were among the benefits cited by Larcher which the new pilot project offers.
The bicycles have been specially-modified and the officers were trained by Universal Cycle Centre that will also underwrite all maintenance and servicing of the bicycles. After three months, adjustments will be made to the programme, if needed.
Raveneau presented the bicycles to the police officers during a short ceremony held at his downtown Castries store.
Acting Superintendent of Police, Gabriel Harrow, was on hand to thank Raveneau for his support, saying that the bicycles will complement the police's usual foot and vehicular patrols during the festive season. Harrow said the police force intends on eventually making the bike patrol an island-wide feature.
"We expect that members of the public will see the police along the highways and byways of Castries and that visitors and the general public will feel safe and secure during the Christmas season and throughout the coming years," Harrow said.
Recently, the Babonneau Police Station adopted the measure to patrol that community's terrain.