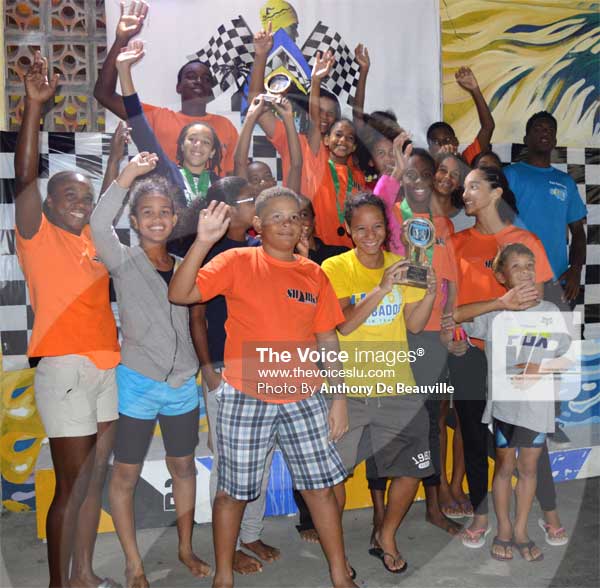 THE Rodney Heights Aquatic Centre hosted the 3rd Annual Lucian Grand Prix organized by the Racers Swim Club last weekend.
The meet came to a successful conclusion Sharks Swim Club emerging as champions, two national records set by Katie Kyle and a number age group records established.
With well over 130 competitive swimmers representing Sharks, Sports Academy, Lightning Aquatic, Seajays and host Racers Swim Club the meet created another big opportunity for local swimmers ahead of what has promised to be a hectic 2016 season.
The younger swimmers dominated the meet characterized by excellent competition. It was also a test of endurance as the swimmers began competition from Friday evening to Sunday afternoon.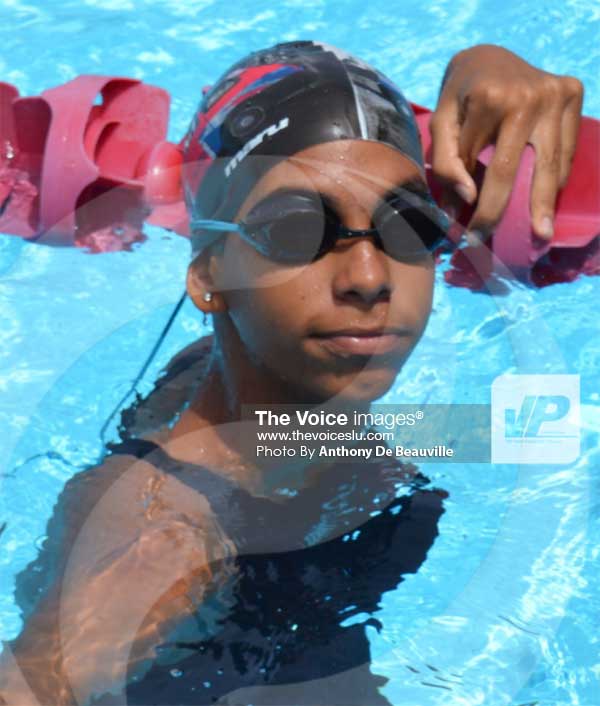 The Sharks captured the top club spot with 962 points (boys 553 / girls 409), Seajays secured second place with 882 points (boys 364 / girls 518), third Lightning Aquatic with 648 points (boys 380 / girls 268), fourth Racers on 428 points (boys 82 / girls 346), while Sports Academy fifth with 144 points (boys 17 / girls 127).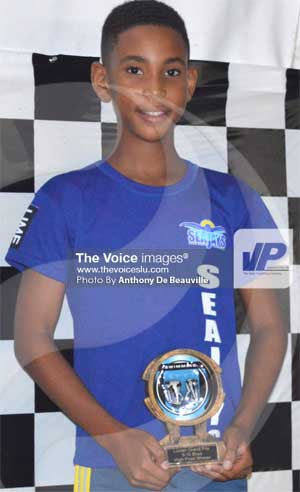 In the pool Sharks boys demonstrated their power, but Seajays young swimmers went on to amass 518 points as they demonstrated their depth and strength especially in the younger age groups. They also sent a clear message to the opposition come 2016 that life will be difficult in the pool at the RHAC.
New record holder 15 year old Katie Kyle from Sharks spoke to The VOICE on The final day of competition.", "I just did two national records in the 100 metre fly in a time of 1 minute 05 seconds and 200 metre fly in 2 minutes 33 seconds. I don't know how to explain it. I am just happy that I did it. I am happy I have my name there now, so other young swimmers would be like me and want to beat Katie Kyle's time. The level of competition was good, I wish there was just one person who was faster than me, so that I had some competition".
Meanwhile, Meet Director Jean Medrick was satisfied with the event. She expressed gratitude to the sponsors and all the officials who made this event possible.
She said "I am happy with the level of competition, ands n, happy to see the young ones putting in the effort. They are swimming hard and they are swimming well. I am pleased to see the times are dropping across the board. I am noticing a lot of the younger ones with much improved times so it's really good to see".
"This is the third time we are running Lucian Grand Prix. I am very happy that we had some sponsors step up – especially Massy Distributors who gave us the Milo medals and that really helped a lot because to give prizes and such is a big money outlay. Lucozade and all major sponsors who gave us prizes – SMJ beverages – we are really happy they came on board to help us".