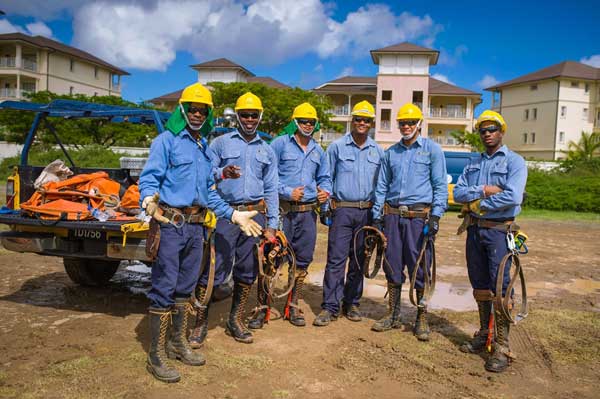 LINESMEN from the St. Lucia Electricity Services Limited (LUCELEC) have proven they are among the best in the region.
At a recently held Linesman Rodeo organised by The Caribbean Electric Utility Service Cooperation (CARILEC) in Saint Lucia, the LUCELEC teams topped the competition that tested their skills, safety standards and speed.
Linesmen instal and maintain electrical power lines. Their role, therefore, in ensuring customers have electricity is paramount. The Linesman Rodeo tests on the field of play the skills required to do the job. The CARILEC members participating were from electric utilities in Grenada, St Vincent, the Virgin Islands and Saint Lucia.
LUCELEC fielded one three-man team each in the Apprentice and Experience levels of the competition. The Apprentice category is for linesman with 1-4 years' experience while the Experience category is for those with more than five years in the field
The Board, Management and Staff of LUCELEC have since congratulated its Rodeo team of Tomy Adolph, Ed James, VoldonHazell, Godwin Brice, Alpheaus Alexander and Wayne Mondesir whose victory reaffirms the company is a leading regional operator in its field.
LUCELEC Managing Director Trevor Louisy says both competitors and volunteers deserve high praise. He said: "We are always happy to do our part to foster regional camaraderie among electric utilities. LUCELEC was pleased to partner with CARILEC in their hosting of this event and are very proud our teams were victorious. We see this as further demonstration of the safe, efficient and reliable service we provide to our customers as what was tested on the field of play is in effect what our linesmen do in the daily execution of their duties.