Candidate Wants To Revive Agriculture, Provide Jobs.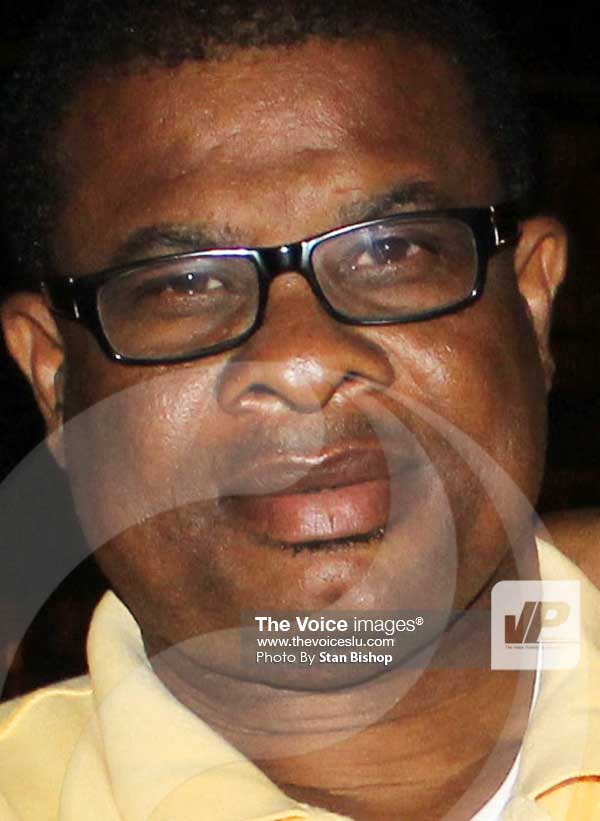 AS political parties continue to identify candidates for the next general election, one contender has come forward with compelling reasons for his decision to join the race, although he faces a daunting task.
Francisco Jn. Pierre who scored a 25-9 win over Benny Chitolie last Wednesday evening to become the United Workers Party's candidate for Laborie has pointed to the need to revitalize agriculture and put his fellows Laborians back to work as motivating factors for stepping forward.
Thirty-four financial members of the party's constituency council voted in the process with six another abstaining. High-ranking party officials were present at the run-off, including Party Leader, Allen Chastanet, who said his party is confident that it can finally bring the seat home.
The VOICE spoke with Jn. Pierre yesterday, during which conversation Jn. Pierre said his decision to contest the upcoming election stems from a number of challenges faced by his fellow constituents, including the loss of their livelihoods. He said the traditionally agriculture-dependent constituency is now virtually a wilderness.
"One of the main things I am looking to do for Laborie is putting people back to work," Jn. Pierre told The VOICE. "We have a situation where most of the farmers have been displaced one way or the other in terms of banana farming. If you go through Banse right now, bananas are almost non-existent."
Jn. Pierre said self-employment would empower people to feed themselves, adding that agriculture has to be the mainstay of the economy and there must be a strong linkage between agriculture and tourism. He said when the country moved into a tourism-based economy in 1997, the marriage between agriculture and tourism failed to take place, resulting in the importation of food to feed both the local population and tourists visiting our shores.
The Laborie MP-hopeful also sees sports as a major avenue for the employment of young people. He cited Darren Sammy, Johnson Charles and Levern Spencer as some of the successful sports people who have shown Saint Lucia's capability to compete at the highest level. By getting involved in sports, he believes the high unemployment among the youth can be reduced.
Electorally, Jn. Pierre faces an uphill battle. Traditionally, Laborie has always been SLP stronghold with incumbent SLP candidate, Alva Baptiste, representing the seat in Parliament since 2006. Nevertheless, Jn. Pierre said he has no fear about taking on the challenge, adding that he would not throw his cap into a race that he was not capable of winning. His service to the community, he said, speaks volumes enough.
"I have been serving the people of Laborie for the past thirty-something years in many capacities, including youth and sports councils, farmers' organizations, clubs or the Laborie Credit Union, where I've been since 1989," Jn. Pierre said. "So I've been at the service of the people of Laborie."
He added: "Laborie is the bedrock of the Labour Party and we should not fool ourselves into thinking that we can just walk in and win Laborie just like that. I am of the firm opinion that there's no seat in Saint Lucia that remains SLP or UWP if you don't do what you're supposed to do. Political parties don't own seats and I am out to prove that theory: that Laborie can change."
Jn. Pierre said he joined the United Workers Party in August this year. He said he was a member of the Saint Lucia Labour Party since 1987 and was at the forefront of Labour Party campaigns in Laborie after SLP MP, Neville Cenac, crossed the floor that year. He was actively involved with former Laborie MP Velon John's elections campaigns in 1992 and 1997 "but went kind of dormant in Labour Party politics after 1997". He's no newcomer to politics, he said.
The father of the Prime Minister's Press Secretary, Jadia Jn. Pierre-Emmanuel stated that while he and his daughter share different political views, there will not be any conflict when it comes to his family being in politics.
"There will be nothing personal. My daughter has her political affiliation and I choose to be affiliated with whichever political party I want at this point in time. My daughter will live her political life while I live mine," Jn. Pierre stated.
He also described his contender, Benny Chitolie, "an outside brother" and himself "a son of Benny's mother". He said Chitolie came into the race at the eleventh hour, but welcomed the challenge. After the results were read on Wednesday, Chitolie pledged his support for Jn. Pierre and the party, which Jn. Pierre welcomes.
"We're close-knit people. With me, Benny and the others, it makes the work even lighter. So no one is excluded from this campaign once we do it in an honourable way," Jn. Pierre explained.
With Wednesday's run-off out of the way, Jn. Pierre said he will now be "canvassing the constituency officially". He expressed gratitude to Laborie and its surrounding communities for their support over the years, adding that he will need their support in his upcoming campaign. What many people see as insurmountable, he said, can be achieved with such support.
"I know that when it comes to Laborie, the seat has been Labour," Jn. Pierre said. "But Obama did it and I think we can do it also. So I wish the people of my constituency will give me this opportunity to represent them in Parliament."