By Kingsley Emmanuel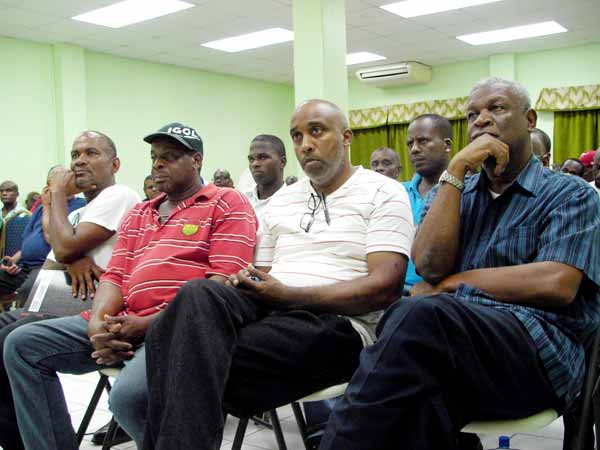 MEMBERS of the Southern Taxi Association (STA) have had their knowledge broadened on issues relating to their operations, at a workshop now underway at the National Skills Development Centre (NSDC), in Vieux Fort.
The objective of the four-day workshop is to review and familiarize taxi operators with the needs of their partners and the industry, so that their passengers can receive the desired level of satisfaction and safety.
The presenters of the workshop which commenced on Tuesday, were individuals from both the private and public sectors, who have a wealth of knowledge in their various fields.
On Tuesday, participants were given a brief history of the association which was formed close to 40 year ago, and consists of 130 members. They were also familiarized with its constitution.
On Wednesday, participants were educated on the Federation of Tour Operators (FTO) Standards, as it relates to Saint Lucia, the various types of insurance policies available to them and their advantages, traffic accidents and what is required of them in cases of accidents, and an insight into their constitution.
The sessions which were interactive and generated much discussions. Facilitators were Lyndon Thomas, manager of Suntours, Clinton Charlery of Guyana and Trinidad Mutual Group of Insurance Companies, (GTM), Sergeant Faucher of the Vieux-Fort Police Station and Vern Gill, an attorney at Law.
In his presentation, Thomas touched on some pertinent issues which taxi operators here are confronted with on a regular basis. He said based on his experience, some taxi operators do not always adhere to these requirements, which is unacceptable.
'Some taxi operators don't even have a jack, spare tyres, spanners…." Thomas lamented.
Again, he lamented that some of drivers kept their vehicles in an unsanitary condition, which can cause much damage to the image of the organization.
Charlery, in his presentation, urged the participants to make sure that they possessed the right insurance policies for their vehicles, adding that if they did not, it could cost them money which they could not afford.
He added that in the past non- nationals had tried to get compensation from his insurance company, amounts which he described as "unreasonable".
The workshop will continue next week, when other topics such as The New Tourism Policy, Transportation Laws for Tourism Taxi Operators, The Hewanorra Redevelopment Project and Managing Finances will be addressed.
Matthew Hutchinson, president of STA, said the workshop was of particular importance to its new and young members whose numbers were increasing steadily.
"It is our duty to make sure that our new members know a lot about the association…what it stands for and its objectives. What is important to us is that there will be a lot of new developments, as it relates to the Association's membership. I think every member would like to see that the Association has a long life," Hutchinson told THE VOICE.