By Kingsley Emmanuel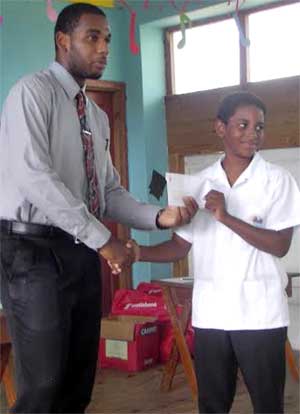 THEKiddy Cricket programme has once again been given a welcome boost, thanks to the generosity of Scotiabank and the West Indies Cricket Board (WICB), who have been sponsoring the programme for over 15 years now.
Last week Thursday, the two partnered to present kits, which comprised cricket gear to the primary schools in the eight districts on the island.
Scotiabank further extended its generosity by presenting a grant to AckeemAuguste, for his outstanding performance in last year's Kiddy Cricket programme along with his academic achievements.
The event which took place at the Augier Combined School was attended by officials of the Ministry of Education, Scotiabank, the St. Lucia National Cricket Association and Cricket Operations Manager ,BrianCalixte.
Curriculum Officer for Physical Education in Schools, Theopilla Charles, in her address, highlighted the importance of cricket and sports in general. She told the students that even though some of them may not be able to become professional cricketers, sports can enable them to become better persons, as it relates to their overall development.
She added that sports have a positive effect on one socially, mentally and physically.
"It teaches you how to work as a team and to cooperate…It teaches you every aspect of life and you become a much more disciplined person. Sports is the only discipline which can develop the whole person," Charles said.
She called on the students to take sports seriously because there were many benefits to be derived from it.
Representative of Scotiabank, Augustinus Andrew said the bank was pleased to sponsor the programme, adding that it was also committed to the development of cricket in the region.
He said the bank was impressed with Auguste's performance during last year's programme and also his academic achievements, hence it was found fitting to present him with the grant. He added that the bank was hoping that the assistance would further develop the young player's talent and interest in the game, and at the same time keep him focussed on his studies.
According to Andrew, the bank's involvement in the cricket had led to a number of young cricketers making the West Indies cricket team. He mentioned among them Darren Sammy of Saint Lucia, mystery spinner Sunil Narine of Trinidad and Jamaican batsman Jermaine Blackwood.
Junior Derose, District 6 coach emphasized that there were numerous career opportunities in cricket and sports in general. He listed some of these as statisticians, coaches, physical trainers, psychotherapists and operations managers.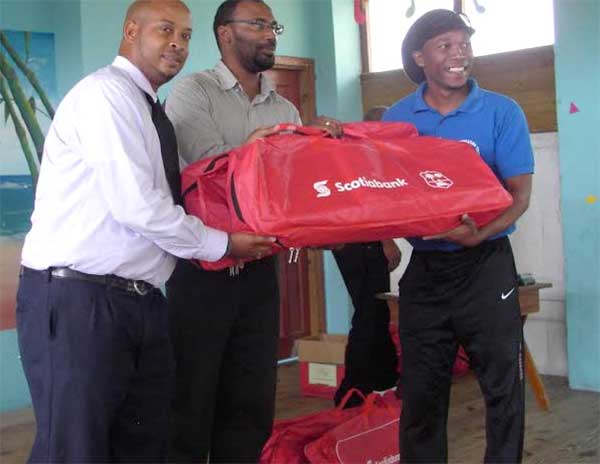 Valange St. Ange, a former Windward Island under 15 cricketer and also a former Saint. Lucia under 15 and under 19 cricketer, said the Kiddy Cricket programme, of which he was a product, had made him a better person and had not affected his academic goals.
St. Ange, now an employee of Scotiabank, urged the students to take the game seriously, stating that it afforded one the opportunity to have a great future.
In a brief interview young AckeemAuguste credited his success in last year's Kiddy Cricket programme to regular training and a determination for success.
Auguste, who is now a student of St. Mary's College, said he will continue taking the game seriously, and at the same time remain focussed on his school work.